A Family Road Trip From Las Vegas to Zion National Park
Three days in the Wild West with your wild ones. Experience life on the frontier, canyon scrambles, dinosaur tracks and ghost towns.
A three-day weekend is a perfect start in exploring the Wild West of Zion National Park and Southern Utah. This family-friendly road trip pairs a big helping of adventure with new discoveries in Southern Utah's frontier for a weekend you and the kids won't soon forget. (Read: Why Your Kids Need a Utah Trip)
Las Vegas to The Zion Region

Kick your road trip off with a day in the St. George area. Get on the water — or the beach — at Sand Hollow State Park and explore the stunning Snow Canyon. In the evening, enjoy playing in St. George.

St. George to Zion National Park

Spend the day cooling off in Zion National Park. On your way a few extra stops give the family a chance to chase the ghosts of dinosaurs and cowboys. In the park, you'll do some family-friendly hiking on the Emerald Pools and Riverside Walk hiking trails.

Zion to Cedar City

The last day is all about experiencing equal parts history and exploration in the Wild West first hand. You'll see horse-drawn wagons, pioneer cabins and even cannons. In addition, see some of the most beautiful places in the region, including Cedar Breaks National Monument and Kanarraville Canyon.
---
Start: Drive roughly two hours northeast on I-15 from Las Vegas to St. George.
End: Cedar Breaks National Monument, just outside Cedar City.
Hours of Driving: 7+ hours of driving, including the commute to and from Las Vegas.
Places to Stay & Local Guides: St. George and Springdale both make excellent base camps for this family road trip, each with plenty of lodging and nearby camping to offer. Plus, booking a local tour guide will help you make the most of your vacation, whether it's your first time visiting the Zion Region or your hundredth. If you're planning your trip to accommodate disabilities, there's plenty of options to safely see and enjoy the beauty of Utah.
Read these resources to learn how to travel thoughtfully and experience Utah most fully on your journey.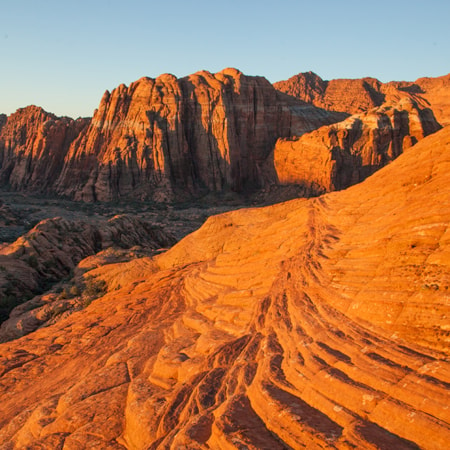 Las Vegas to St. George
160 Miles
Everyone will love kicking off their road trip by clambering all over the layers of red and white sandstone and ashen cinder cones in Snow Canyon, or playing in the sand of Sand Hollow State Park — whether on the beach, or on an ATV. Next up, it's time for some family fun in nearby St. George. Play around St. George's Pioneer Park, with it's very narrow and fun mini-slot that may hook your kids for life. Or, stop by the Children's Museum for some air conditioned exploration and discovery.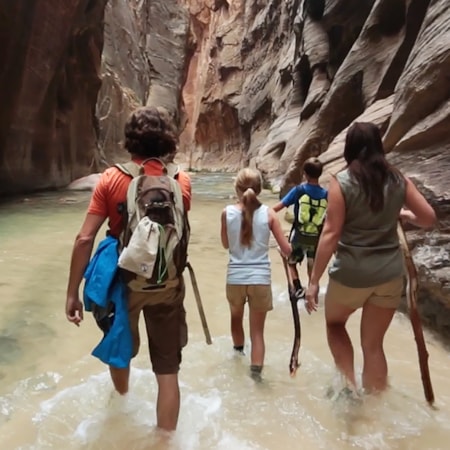 St. George to Zion National Park
96 Miles
Families of budding nature lovers should set out early for Zion. On the way, pioneer-era ghost towns like Grafton and Silver Reef are sure to excite, and one of North America's most significant dinosaur track sites at Johnson Farm is a must-see. In the park, start with the Emerald Pools and the Riverside Walk hiking trails. Taller kids may be able to comfortably accompany their parents a ways up The Narrows. For more hikes that may be suitable for your family, check with a ranger at the visitor center.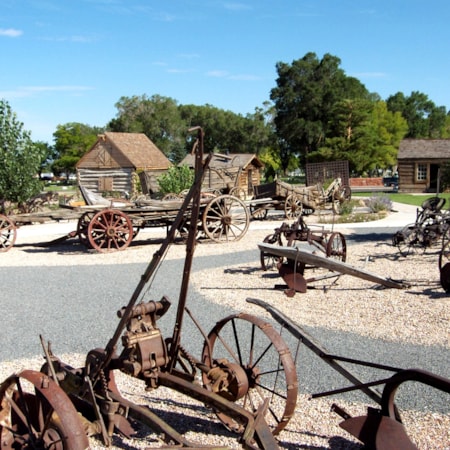 Zion to Cedar City
116 Miles
After a stunning day of hiking through Zion National Park, it's time to explore Utah's western heritage. Frontier Homestead State Park honors the Mormon pioneers who trekked from the Salt Lake Valley to settle in the rugged high desert region. Expect to see horse-drawn wagons, historic buildings and Native American jewelry. Knowledgeable staff members are happy to share the details about these artifacts, so don't be afraid to ask questions. With all this historical context, your family will connect with Utah on a journey into the non-technical Kanarraville slot canyon that much more. After grabbing dinner in Cedar City, head to Cedar Breaks National Monument for a beautiful sunset view. If you're really adventurous, wait until the stars come out.
Thinking about adding a day or two to your road trip? Discover more family-friendly ways to experience the Zion Region with this itinerary of local favorites.