Fremont Indian State Park and Museum
Highlights
History: Discover the many artifacts, petroglyphs, and pictographs.
Pithouse and Granary: Climb into the subterranean chambers to see the Fremont Indian shelter and storage dwellings.
Clear Creek Canyon Rock Art: See the ancient stories the Fremont Indians told with their petroglyphs and pictographs.
Fishlake National Forest: Fishlake is the largest natural mountain lake in Utah.
Hiking: Explore the nearby hiking trails and keep your eyes peeled for wildlife.
Stargazing: Fremont Indian State Park is a certified International Dark Sky Park.
Things To Do
After checking out the pottery, baskets, arrowheads and other artifacts in the museum, take a stroll through the Parade of Rock Art. The 0.3 mile (0.48 kilometer) trail follows a paved path that loops around the cliffs of Little Dog Canyon behind the Visitor Center. You'll see several panels of petroglyphs including the Paiute Creation Story.
In addition to hiking trails (see below), this area is also very popular amoung ATV riders. The impressive Paiute ATV Trail runs through Fremont Indian State Park. The complex trail is one of the largest and most impressive ATV trails in the world and includes opportunities to escape into the forest or explore towns and heritage sites.

And be sure to stick around after dark for some unparalled stargazing. Fremont Indian State Park is located deep within Clear Creek Canyon. The canyon and surrounding mountains serve as a light pollution buffer for the area. Tourists who come to the park to observe its starry skies are carrying forward an ancient tradition of communing with the cosmos, as canyon wall carvings of celestial bodies suggest early local inhabitants kept record of astronomical phenomena.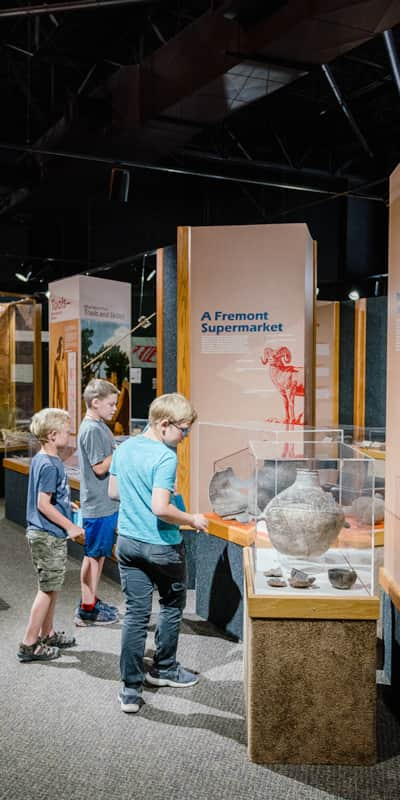 Things To Know
The Fremont Indian State Park and surrounding area is considered an artifact and should be treated with respect. Don't climb through the ruins unless it's specified that you can. Leave it as you found it and dont carve, scratch or paint the walls or rocks. Always "Respect and Protect."
The park is 180 miles south of Salt Lake City; 21 miles southwest of Richfield on Interstate 70; and 17 miles east of Cove Fort.
Hours vary by day and season, but the museum is generally open from 9:00 a.m. to 5:00 p.m. or 6:00 p.m. during the summer.
There is a day-use fee for visitors, check with Utah State Parks for the current rate. Annual state park passes are accepted. Camping fees are separate.
All plants, animals and natural features and structures are protected. It is illegal to mutilate, deface, alter, destroy or remove them.
The elevation of the park is 5,900 feet.
You can download a PDF park brochure here.
Fires may be built in specified areas. There is no gathering of firewood allowed in the state park.
Pets are permitted in outdoor areas but must be kept on a maximum 6-foot leash. Service animals are the only animals admitted in park buidlings.
Beware of rattlesnakes in the area. They are generally passive and prefer to be left alone. Give them space and move along slowly.
Best Hiking Trails
There are at least ten easy, short hikes at Fremont Indian State Park. An interconnectd trail system leads hikers past rock art left behind by the Fremont Indians. Some of the trails are loop trails and some are out-and-back; all are less than one mile.
Centennial Trail
Easy (5.1 miles/8.2 kilometers)
A loop trail that has an elevation gain of 314 feet (95 meters) and parallels the park road. It will lead you by many examples of Fremont Rock art and can be cut in half at the cutoff point. The 0.5 mile (0.80 kilometer) climb to Five Finger Ridge provides great views.


Parade of Rock Art Trail
Easy (0.3 miles/0.48 kilometers)
This loop trail has an elevation gain of 26 feet (7.9 meters) and follows a paved path that loops around the cliffs of Little Dog Canyon behind the Visitor Center. You'll see several panels of petroglyphs including the Paiute Creation Story.


The Court House of Ceremonies Trail
Easy (0.5 mile/0.80 kilometers)
This loop trail is an extension of the Parade of Rock Art trail and has an elevation gain of 95 feet (29 meters). The interpretive trail leads up a narrow canyon where you can see rock art panels displaying initiative ceremonies.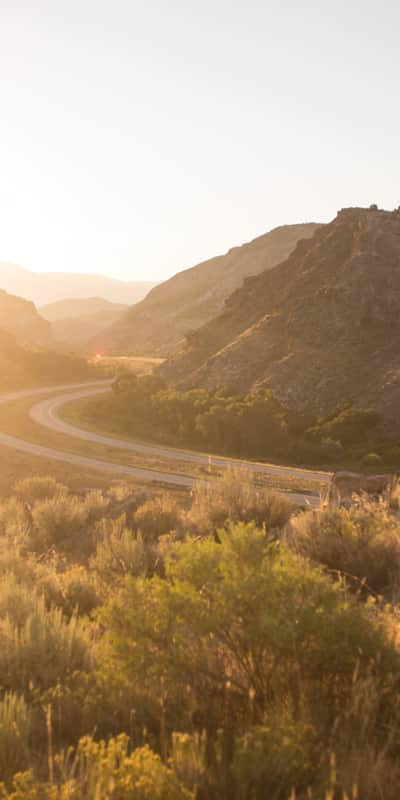 Where To Stay

Camping, Yurts, Teepees and Cabins
Campground reservations can be made online through Utah State Parks. There are 44 campsites available for reservation at Castle Rock and Sam Stowe Campgrounds. Camping fees range from $9 per site per night for primitive camping to $150 per site per night for group camping. Individual campsites are available for reservation on a four-month rolling basis. Group sites are available for reservation on an 11-month rolling basis. You can book a maximum of 13 days beyond the last date of the reservation window.
Castle Rock Campground is primarily primitive camping, but has drinking water and other amenities.
Sam Stowe Campground is RV-friendly and has picnic tables, showers and other amenities. This campground has seven full hook-up sites with water, power and sewer. There is also a large overnight group site that allows for up to 100 people.
There is one yurt available for ovenight stays that can accommodate up to six people.
There are two cabins available for overnight stays that can accommodate up to six people.
Two teepees are available to reserve for overnight stays. Each can accommodate up to eight people.
Hotels and Nearby Places to Stay
The closest city to Fremont Indian State Park is Richfield, which is approximately 25 miles northeast, though nearby Monroe has limited services like gas stations, restaurants and vacation lodging such as Monroe Inn. Richfield is known as the hub of Central Utah and has plently of hotels, restaurants and a historic main street with many interesting shops.
Weather
Average temperatures in the summer months can soar to 90 degress F during the day and drop to 12 degress F at night during the winter months. The average temperature in July is 74 degress F while the average temperature in Decmeber is 30 degrees F.