Camping
Among established campgrounds, Fruita Campground may be one of the most spectacular you ever visit. Its 71 campsites are nestled beneath an impressive red cliff, surrounded by the Fremont River and beautiful orchard trees. Sites are well equipped for tents and RVs alike, each with a picnic table and campfire ring. Though there are no RV hookups. Reservations are available between March and November, and strongly recommended — sites tend to fill fast.
For visitors who plan to hit Capitol Reef's hiking trails, Fruita Campground is a wonderful place to set up camp. The campground is near many of the park's most popular trails, the Gifford Homestead and the fruit orchards.
Hiking
The beauty of hiking in Capitol Reef National Park, aside from the sweeping vistas, seemingly endless landscape, and limitless sky and desert rock, is that because it's a little more out of the way than Zion, Bryce, Canyonlands and Arches, it's less crowded. But make no mistake, the scenery is just as spectacular. Many of the park's best trailheads can be found along Scenic Byway 24, a main corridor and primary road on the Capitol Reef Scenic Drive route.
Before hitting the trails, it's always a great idea to stop by the Visitor Center to speak with a park ranger. Capitol Reef National Park is full of rich history and artifacts that you won't want to miss. To start planning your trip, explore the park's best hiking trails.
Scenic Drives Along Utah Highway 24
In some parks you really need to get away from the road to find the best scenery, but in Capitol Reef National Park there is a plentitude of beauty that can be accessed by vehicle. One highly recommended stop is the Panorama Point/Goosenecks view area, on the park's west end.
A logical place to start is the Capitol Reef Scenic Drive, an 8-mile paved road that is lined with pullouts that allow you to stop and take it all in. Beyond the paved road are two dirt spur roads, Grand Wash and Capitol Gorge. These dirt spur roads enter canyons and lead to trailheads, and are usually suitable for passenger cars and RVs up to 27 feet in length. Grand Wash is a wonderful drive through Capitol Reef country that leads to a hiking trail through narrow canyons, which we highly recommend.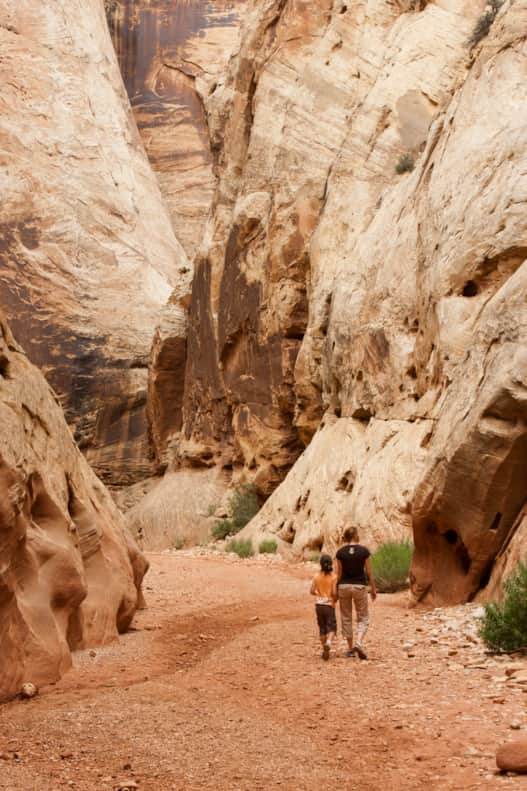 Canyoneering & Slot Canyon Hikes
There are a number of tight slot canyons to explore, some of which you can squeeze through on foot while others require canyoneering equipment and know-how. After a few days hiking and lounging by the Fremont River, lace up your boots and join a local guide on a canyoneering excursion.
To learn more, start off by reading a local's account, "Walking Off the Ledge Into Capitol Reef."
Explore Capitol Gorge to the Pioneer Register
At the end of the Capitol Reef Scenic Drive, you should definitely drive out to the end of the unpaved but well-maintained Capitol Gorge spur, a few miles farther along the scenic drive. This 2.2- mile road is a little narrow for RVs, and nothing you would want to pull a trailer through, but other vehicles will make it without difficulty. It is hard to imagine a more unusual driving experience for a conventional vehicle: The gorge ends in a narrow channel carved between sheer cliffs.
There is an easy and interesting one-mile hike from the trailhead at the end of the Capitol Gorge spur road. The hike takes you to a rock wall called Pioneer Register where you can see the names of miners, settlers and other adventurers who passed through in 1871 (please don't add your own!). In fact, the labyrinthine Capitol Gorge road was the main transport route through this region from 1884 until Highway 24 was opened in 1962. Pioneers had to remove boulders and other debris after every flash flood, and at its best, it was a tight fit for big wagons or trucks.
Pick Fruit in Fruita
After a visit to Capitol Reef's rocky wilderness, the green groves and fruit orchards around the intersection of Highway 24 and the park scenic drive are a cool and welcome sight. Just after the turn of the century, the Mormon community of Fruita, nestled in the shaded canyon formed by the Fremont River, was a lively, vibrant town of nearly 50. Though most of Fruita's residents gradually moved away after Capitol Reef's establishment as a national monument, the fields and orchards (and an abundance of wildlife) remain for your enjoyment. Visitors may even pick small quantities of fruit in season: cherries in June, apricots in July, pears in August, and apples in September. Look for U-Pick signs and be prepared to pay a small donation for any fruit you take with you (there is no charge for fruit you eat on-site). The money, collected on an honor system, goes to maintain the orchards — a very worthy cause.
While in the Fruita area, make sure you check out other historic attractions such as the Fruita Schoolhouse, old Blacksmith Shop, the Fremont petroglyphs and the Gifford Homestead, which in addition to offering a snapshot of pioneer life, bakes the harvest of the season into incredible pies.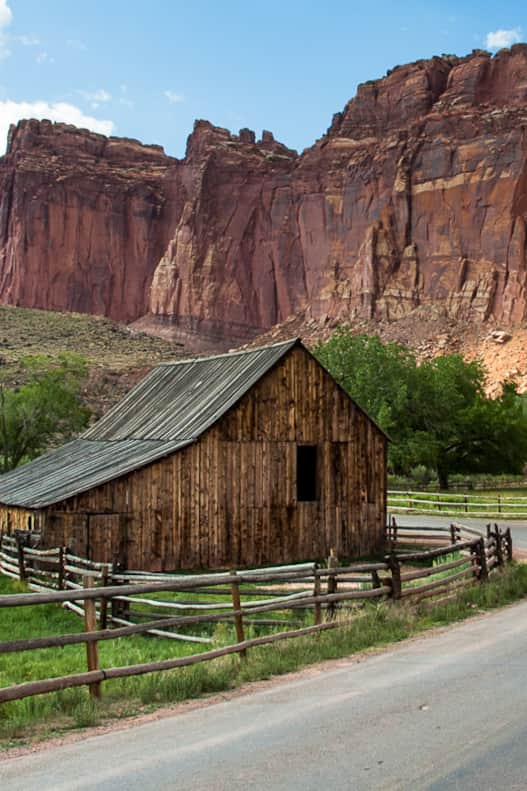 Revere Mother Nature at the Temples
About 5 miles east of Sleepy Hollow on S.R. 24, watch for the turnoff on the left for Cathedral Valley Scenic Backway. This 56-mile dirt track heads back to the northwest through the northern tip of Capitol Reef and into Cathedral Valley, ending at Fremont Junction on I-70. The main attractions along this desert and canyon drive are views of such dramatic formations as Temple of the Sun and Temple of the Moon, which can also be viewed from the Upper Cathedral Valley Trail. High-clearance vehicles are advised for this rather rough drive, which includes a ford of the (very shallow) Fremont River. And as with all unpaved roads in the Utah desert, this route can be impassable when wet, so keep an eye on the weather forecast.
In the southern district of the park, back-road enthusiasts will want to check out Notom Road Scenic Backway. This 29-mile scenic drive (about 25 miles of which is paved) parallels the Waterpocket Fold and gives one of the better perspectives on its magnitude. It connects with the Burr Trail at the southern end of the national park, making up the 129-mile "Waterpocket District" loop. (Read: Serenity Found in Torrey and Capitol Reef's Cathedral Valley District)
For more details on these backways, see our Scenic Driving Guide.