Winter Hiking in Bryce Canyon National Park
Bryce Canyon winter hiking is not your typical hike. Review our suggested checklist of snow hiking gear and tips to stay dry, warm and comfortable. Plan a trip.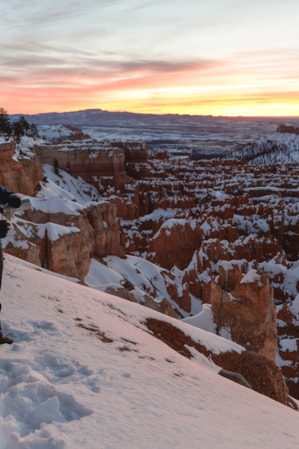 At an elevation of up to 9,000 feet above sea level,
Bryce Canyon National Park
gets regular snow during
winter months
, but hiking in Bryce during the cooler season is not only possible, it's highly recommended. Winter cuts the crowds and while you'll meet other hikers, you'll often have this special place all to yourself. To stay dry, warm and comfortable for Bryce Canyon
winter hiking
, review our suggested snow hiking gear checklist below.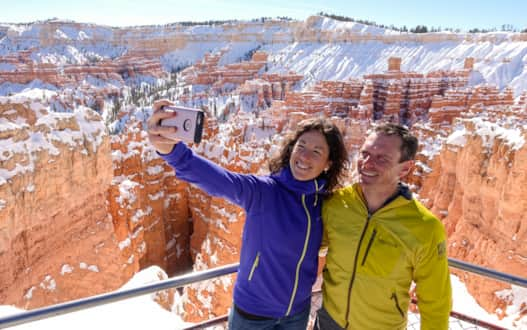 Get Your Snow Hiking Gear
Hiking boots
Your light trail hikers won't cut it. You'll want a breathable, waterproof boot with a sturdy, super-grippy sole. High quality winter hiking socks are an essential addition to your snow hiking gear to pair with that footwear.
Day pack
You'll need a waterproof (or at least resistant) pack for your Bryce Canyon winter adventure with enough room to stash all your layers as conditions change. Size matters: Make sure you've got room for snacks, water, a beanie, gloves, extra-mid layer and room to stash your outer layer if things heat up. Hiking in cold weather is about staying dry, so don't be a hero. If you're sweating a bunch, stop and peel a layer or two.
ICEtrekkers or Yaktrax
These inexpensive devices strap onto your boots and act as "chains" to give you traction on packed snowy, icy trails. They are available for sale at the Bryce Canyon Ranger Station and, if the trail is clear, are easily stashed in your day pack.
Snowshoes and gaiters (only if needed)
If you've arrived following one of Bryce's periodic blizzards and there is new snow on the trails, you will need snowshoes and gaiters (to keep snow out of your boots). But before you go, consider that the popular Fairyland Loop and Navajo Loop trails get a lot of traffic, even in winter. So, unless you are making first tracks on the trail after a storm, you'll likely be walking on packed snow and ice, which makes snowshoes more of a hazard than a benefit and not a necessity for your snow hiking gear list. Consult the rangers on trail conditions. You can rent both at Ruby's Inn Nordic Center just outside the park.
Trekking Poles
Clawing your way up snowy and, at times, icy trails and across wet slick rock (which unlike dry slick rock is genuinely slick) can be tricky. Some nice sturdy, collapsible poles, with a snow basket and a rubber tip will give you an extra place to put weight down while on slippery descents and can help you if you find yourself in deep snow.
Breathable, waterproof jacket and rain paints
You'll want a nice breathable outer layer for your top and bottom that will repel water and let your perspiration out when you're climbing if you get caught in rain or snow which is likely during a Bryce Canyon winter hike. (Read: "Stay Warm in Southern Utah: How to Pack for a Winter Trip")
Non-cotton base layers
Wicking fabrics are a must; they'll keep the moisture away from your skin as you sweat. After you stop moving you'll cool down quickly and want to keep yourself as dry as possible.
Read these additional resources to learn how to travel thoughtfully and experience Bryce Canyon National Park most fully.