HBO's Westworld. See it now, in Utah.
This scenic corner of Utah where director Jonathon Nolan films portions of HBO's Westworld is a place that evokes the mythological west of classic Hollywood Westerns, including John Ford's long love affair with nearby Monument Valley. It is the real West, but it is a place that feels otherworldly, almost impossible.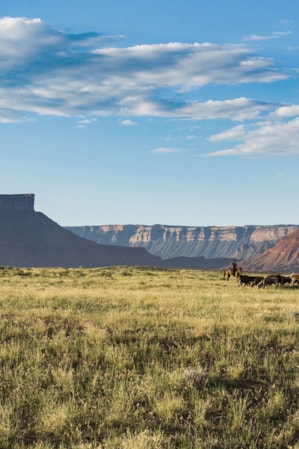 The much-acclaimed HBO series "Westworld" adapts Michael Crichton's 1973 screenplay and film into an interesting story updated for a modern audience and showcases some of director Jonathan Nolan's signature nonlinear storytelling. The setting is spellbinding, featuring rugged terrain and breathtaking vistas. Unforgettable Western backdrops bring the storytelling to life. But where was Westworld — both seasons one and two — filmed?
In season one, the sweeping place-setting camera shots of Castle Valley and Canyon Country (Dead Horse Point State Park and Canyonlands National Park) that Jonathan Nolan's production team cut into the "Westworld" narrative are fitting for multiple reasons.
This scenic corner of Utah, more than anywhere else on the map, is a place that evokes the mythological west of classic Hollywood Westerns, including John Ford's long love affair with nearby Monument Valley Navajo Tribal Park in his depictions of the Wild West. It is quintessential western America, but these locations feel otherworldly, almost impossible. It is a natural amusement park of the highest order, home to Moab, Arches National Park, some of the West's best whitewater on the Colorado River and virtually limitless open space to roam.
"The sculptor here is the force of Mother Nature, whose patient hand harnessed wind, water, ice and time in the creation of Castle Valley, Utah."
Meanwhile, the three scenic byways in this area link many of the film's best panoramas as they wind through red rock valleys. Production stills from "Westworld" show a flatbed trailer trucking the classic Fillmore & Western Railway train carriage set through Castle Valley to depict "Arrivals" to Westworld. A drive up the Potash-Lower Colorado River Scenic Byway is like arriving in the amusement park of Westworld. What adventures await?​
Season two introduces new Utah landscapes, including Glen Canyon National Recreation Area, known for Lake Powell, and Coral Pink Sand Dunes State Park.
Though many Utah landscapes are woven into the fabric of Hollywood, they are also travel destinations for your next outdoor adventure. Ready to start planning your visit? In the featured story below, you can explore itinerary ideas inspired by movies and television shows filmed in Utah and premiered at the Sundance Film Festival. Or, follow our Southwest Silver Screen itinerary through Southern Utah, which combines many of the best film destinations into one trip.
Interested in seeing more Utah movie-related destinations? Follow a Germany-based film enthusiast on her road trip to some of Utah's most iconic silver screen backdrops.
Filmed in Utah: 7 Itineraries Through Hollywood's Most Iconic Settings
Whether hitting the Sundance Film Festival in Park City and Salt Lake City in January or visiting Utah throughout the year, you'll find yourself near some Utah's most iconic and most filmed places.