U.S. Federal Shutdown Information
At this time, all of Utah's national parks, monuments and recreation areas remain open.
Learn more.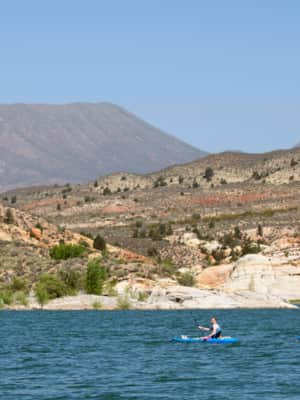 Paddle Among Red Rocks and Waterfalls at Gunlock Reservoir State Park
Pack up your gear and head out to Gunlock Reservoir near St. George. Bring your SUP, kayaks, jet skis and power boats for a day full of watersport excitement.
Weather at Gunlock State Park
At an elevation of 3,600 feet, you can expect mild weather at Gunlock State Park throughout most of the year. The highest temperatures are between June and September, but temperatures in winter rarely drop below freezing.

Average Daily High and Low Temperatures
March: 62/37 F (16/4 C)
April: 69/42 F (20/5 C)
May: 79/50 F (26/10 C)
June: 90/58 F (32/14 C)
July: 96/65 F (35/18 C)
August: 94/63 F (34/17 C)
September: 86/56 F (30/13 C)