Traveling Back in Time on the Old Spanish Trail
Travel back in time to the 1800s when mule trains traversed the over 2,500-mile-long route from Santa Fe, New Mexico to Los Angeles along the Old Spanish National Historic Trail. Southern Utah offers easy ways to delve into the past without venturing too far from the beaten path.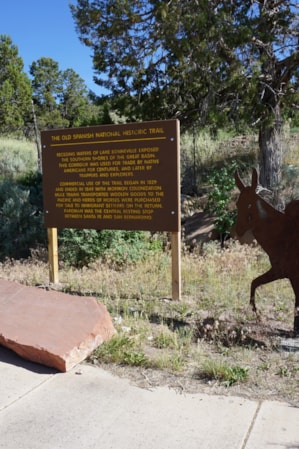 I strolled among the statues and monuments honoring pioneers and early travelers as my mind traveled back in time to the 1800s, when the Old Spanish National Historic Trail first passed through the area. I pictured the early travelers who may have rested on the spot where I stood in Parowan Heritage Park. Did they find a shady spot to rest? Did they camp for a night? Or were they in a rush to get where they were going?
The trail took a few different routes from Santa Fe, New Mexico, to Los Angeles, California, and some of those routes passed through Southern Utah, including a route through Parowan. People who made the journey traveled across mountains, deserts, canyons and other types of tough terrain on the over 2,500-mile route which passed through six states.
Mule caravans would make their way through this area, transporting woolen goods and other items. These caravans were also used for a far darker purpose: to transport slaves, many of whom were Paiute and Apache children and women.
"It gets you in touch with the history of this area because you're actually bringing yourself back to a time period before this was part of the U.S."
Today, visitors won't find much evidence of these events along the trail itself. However, visitors can certainly take some time to ponder the past and think about the trail's unique and sometimes troubling history.
Delve Into History Near I-15
While many people blaze down I-15 without giving a glance or a thought to the area's heritage and historic routes in the area, it's easy to take some time off the highway to stop and ponder the past.
I had stopped in Parowan, located 20 miles northeast of Cedar City, to break up my journey to the St. George area. I wandered through the Parowan Heritage Park, gazing at monuments and reflecting on what it would have been like to be an early traveler along the route. Cut-outs of mules laden with goods, and people riding alongside them, sit next to a sign describing how the area was a rest stop for early travelers.
The park has plenty of shady spots to sit, benches, and picnic tables scattered throughout, offering a multitude of spots to sit, relax, and even reflect — a modern-day version of the early travelers' rest stop. I wondered if trail travelers stopped to rest beneath the same shady trees where modern-day visitors sit to enjoy a picnic lunch.

"In little towns like Panguitch and Parowan, it's easy to get places of trail that will give you a feel for what the trail was like," says Jerry Van Iwaarden, President of the Southern Utah Chapter of the Old Spanish Trail Association.
When he first moved to Southern Utah 22 years ago, Van Iwaarden was enthralled by the area's history and began to learn as much as he could about it. He was fascinated by the 1776 Dominguez-Escalante expedition through the area as well as the Old Spanish Trail route, which was most historically significant from 1829 to 1848, though the route was used long before that period.
"It's not a trail like the Oregon Trail where you would have a lot of wagon ruts and so forth because it was mainly livestock," Van Iwaarden says, noting people would typically travel with mules piled high with woolen goods, transporting them to Los Angeles. There was very little east-west traffic at the time — most travel was north and south — and the Old Spanish Trail opened up access. But that access also meant human cargo could be exchanged along this route, which also provided smugglers a means of escape. Travelers along this route today likely won't see many physical signs of this dark past, but it is an important historical element to remember. (Read: Guardians of the Old Spanish Trail.)
Pondering the Past
After spending some time pondering the travelers who wandered through Parowan over 150 years ago, I headed on down the road to Enoch, spending some time checking out the interpretive panels and Old Spanish Trail markers around town.
I traveled along Old U.S. Highway 91, which runs parallel to the bustling I-15. As I journeyed along this route, I imagined those who came this way during the Old Spanish Trail days, pondering the similarities and differences in our journeys.
They traveled at the pace of a mule, while I had a gas pedal and could easily hop on I-15 and be barreling down the interstate in no time. The day I visited was a hot one, but I had air conditioning. I could pull a cold drink or snack out of my cooler or stop by a gas station or store to pick up refreshments.
I pondered what early travelers would eat on their journey and how appetizing it might have been. The questions in my mind were endless. How fast were they traveling? What were their thoughts, worries, desires, and fears? Why were they heading out on the trail? How did they feel about their journey? Were they excited? Or did they have trepidation? I also thought about the people who traveled this route against their will. It's easy for history books to gloss over troubling details, but it's important for people to remember and repeat these stories so future generations can avoid the evils of the past.
It's also valuable to ponder the day-to-day challenges of life in the Old Spanish Trail era. Van Iwaarden hopes the trail will help people connect with the past and imagine what life was like back then. "Hopefully, what will happen is people will also realize the difficulty of transportation in that day and time," he says. "So it's kind of like looking at the past from the present and getting a taste of what it was actually like." He points out the area's history goes back to a different era. "It gets you in touch with the history of this area because you're actually bringing yourself back to a time period before this was part of the United States," he says. "It was still Mexican territory."
In order to get a taste of the trail, Van Iwaarden recommends a few stops near I-15 which allow history-minded explorers to embrace the area's heritage without traveling too far astray. Easy stops along the trail include Parowan Heritage Park in Parowan, as well as the town of Enoch, about eight miles north of Cedar City. In Enoch, history lovers can stop by the City Office and check out the Old School Library and other interpretive exhibits. Van Iwaarden says driving west along Midvalley Road towards the Three Peaks Recreational Area will also bring visitors in touch with the trail since it follows the route. To learn more about the trail and plan your own journey, visit: oldspanishtrail.org.