Olympic Park Activities
Alf Engen Ski Museum

The Alf Engen Ski Museum was established well before the Olympic games landed in Salt Lake City. Its doors opened in 1987 with a mission to honor and preserve Utah's rich ski history. Browse collections of skiing innovations, climate conditions and the Intermountain Ski Hall of Fame. Don't miss the comprehensive collection of awards, photographs and memorabilia from the museum's namesake Alf Engen, a U.S. Ski & Snowboard hall-of-famer who helped develop much of the region's skiing we know and love today. Entry is free.

Bobsled

The bobsled track is one of the Utah Olympic Parks most iconic attractions. Visitors can experience the same thrill in winter or summer and take a trip down the bobsledding track with a professional rider. The Comet Bobsled reaches over 60 mph and riders experience 4-5 times the force of gravity. Riders must meet age, weight and health requirements to participate. Tickets must be booked beforehand, so make sure to reserve your spot in advance.

Eccles 2002 Olympic Winter Games Museum

A trip through the Eccles 2002 Olympic Winter Games Museum feels like reliving the games in person. The museum is a captivating tribute to the dedicated athletes and their sports, with collections of memorabilia from alpine skiing, snowboarding, track sports, curling, the paralympics, speed skating and much more. See what a real Olympic gold medal looks like up close, and hold the famous Olympic Torch in your own hand. Admission is free.

Zip Line & Other Activities

The Utah Olympic Park has no shortage of activities to get your adrenaline pumping. Navigate through an elaborate ropes course suspended dozens of feet in the air, or cruise down a zip line with the alpine breeze on your face. Activities are weather dependent and may close early during inclement weather.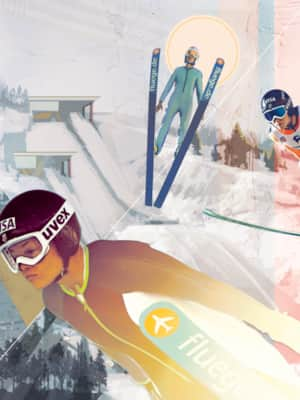 The Fly Girls of Park City
Kick off your ski trip by visiting Utah Olympic Park and reliving the fight for gender equality in the Olympic Winter Games with Park City's very own women changemakers.