Flood Safety
Due to record snowpack and high amounts of spring runoff, please be advised of potential flooding that could impact travel plans.
Learn more
Top Multi-Day Adventure Cycle Routes
Southern Utah
From scenic, low-traffic roads in remote and beautiful landscapes to routes accessing top Southern Utah destinations. Utah bike tours are unforgettable and this Nevada border to Colorado border is one of the best bikepacking adventure cycle routes in the American West.
Punishing climbs, winding turns, and quick descents await skilled riders on one of the world's most beautiful, scenic roads. Cyclists prepared to ride at altitude will enjoy the contrasting landscapes of Utah's Dixie National Forest's alpine trees amidst hoodoos, sandstone formations, and rocks colored in pinks, whites, and reds.
The St. George area is known as "Color Country" for good reason. Snow Canyon State Park, just 11 miles from St. George and the start of a phenomenal tour of the area, features red and white Navajo sandstone formations, black lava rock, and countless species of vibrant flora and fauna — all of which makes for a spectacular backdrop for equally spectacular riding.
Dozens of movies have been filmed in the red desert outside Moab, and it's not hard to see why: southeast Utah boasts some of the most jaw-dropping scenery you'll find in the United States, and much of it is accessible by paved road — perfect for adventurous road cyclists.
Northeastern Utah
This ride from Vernal, Utah, near Dinosaur National Monument on the Utah-Colorado border, to tiny Manila takes you past fossil-rich, multi-colored geologic formations, along the edge of the High Uinta Mountains, and past the aptly named Flaming Gorge. With plenty of places to stop, rest, and take in the sights, this is one of the most unforgettable road rides in Utah.
Northern Utah
Savor spectacular riding through mountain passes, with convenient access to lodging and camping along the way. Highlights of the 142-mile route (one-way) include excellent wildlife spotting, views of Great Salt Lake, and historical landmarks.
Central Utah
Best suited for either a gravel bike, cyclocross bike, or lightweight mountain bike, the Crusher route is roughly 40 percent pavement, and 60 percent dirt and gravels roads. Wide range gearing and durable tires are a must for the "roughly" parts. No matter which bike you choose, at some point you will wish you were riding something else.
Statewide
Enjoy a U.S. Bicycle Route System tour through Utah – from Idaho to Arizona. Includes a scenic ride along the Wasatch Front, through Fishlake National Forest and Torrey and south through Panguitch to the Arizona border.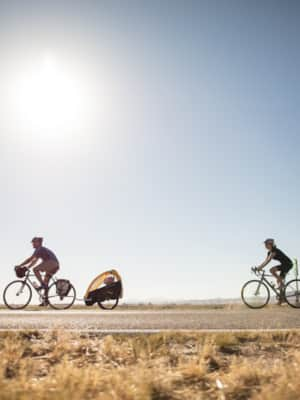 Utah at 15 mph
When it comes to family bike tours, Utah is tough to beat. Learn how to plan a family-friendly bike tour and see what this state has to offer!