Did you know?
The Great Salt Lake and its wetlands are a major staging area for millions of migratory waterfowl and shorebirds, housing a large percentage of the world's population of many species during their spring and fall migrations. It is designated as a Western Hemisphere Shorebird Reserve Network site.

Speciality birds like the California Condor and Black Rosy-Finch have been spotted in the state.

Utah's State Bird, the California Gull, attained fame when it arrived in great numbers at the first Mormon settlement near the Great Salt Lake in the summer of 1848 and devoured a locust swarm that threatened the pioneers' first crop.

Utah's Tracy Aviary is one of only two free-standing aviaries in the country and is home to some 135 species of birds.
Places to See Birds
Utah is home to three national wildlife refuges and a dozen other sites deemed "major birding locations" by Utah's Division of Wildlife Resources. National wildlife refuges are often some of the best places to see birds, since they are areas specifically set aside to conserve wildlife and their habitat. Pack your binoculars and get ready to explore some of Utah's best birding sites.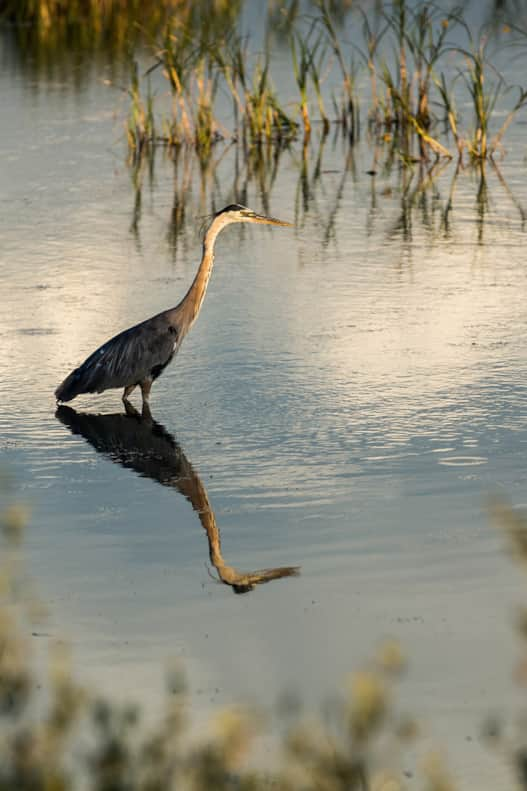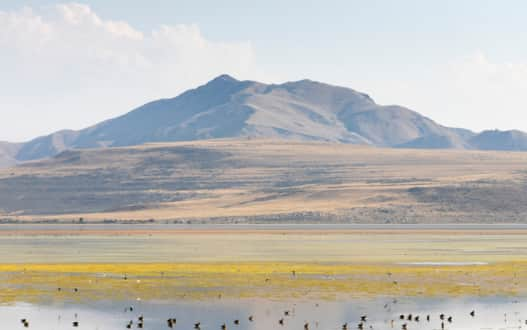 Bear River Migratory Bird Refuge
Located at the northern tip of the Great Salt Lake, many birding enthusiasts consider the Bear River Migratory Bird Refuge a top-ten site in the world. The 75,000-acre refuge is the migratory stop for millions of migrating birds, including the American White Pelican, Black-necked Stilt, American Avocet, White-faced Ibis and Snowy Plover. The Wildlife Education Center offers a schedule of family programs, and refuge tours may be available by request prior to your visit. Brigham City is a great basecamp for your visit, with a quaint historic Main Street.
Eccles Wildlife Education Center
The George S. and Dolores Doré Eccles Wildlife Education Center, managed by the Utah Division of Wildlife Resources, lies on the edge of Farmington Bay and one of the richest wetlands in the United States. The center, sitting on the Robert N. Hasenyager Great Salt Lake Nature Reserve, is prime habitat for songbirds, shorebirds and migrating waterfowl that spend the summer feeding and nesting in marshes, mudflats, ponds and grasslands in the surrounding wetland. (Read: "Songbirds, Shorebirds and Migrating Birds, Oh My!")
Antelope Island State Park and Causeway
Spectacular birding, free-range bison and convenient wildlife viewing on craggy Antelope Island State Park — located in the Great Salt Lake — are accessible via a scenic causeway from Syracuse, north of Salt Lake. Several trails popular with hikers and mountain bikers traverse the mountainous island and the park serves as a great launch point to explore the Great Salt Lake by boat or kayak. Birding is excellent year-round, but it's especially prolific during spring and fall migrations when you can check dozens of birds off your list. The largest island in the Great Salt Lake is also home to a roaming herd of 500 bison as well as mule deer, antelope, bighorn sheep and coyote.
Mirror Lake Scenic Byway
From Kamas, the Mirror Lake Scenic Byway winds along the picturesque Provo River through farm and ranch lands and rises to heavily forested mountainous terrain, accented by meadows and rugged peaks. The views from Bald Mountain Pass are breathtaking, across endless miles of forest and ridgelines. The Uinta Mountains and surrounding national forest lands support a variety of wildlife, frequently seen along the highway. Throughout the summer months, watch the trees for wrens, bluebirds, warblers, hummingbirds, sparrows, thrushes and the occasional American Pipit and Townsend's Solitaire. Also keep your eyes open for other common Utah wild animals like mule deer, elk, moose, black bear, mountain goats, bighorn sheep, river otters, raptors and even cougars.
Fish Springs National Wildlife Refuge
Established in 1959, the refuge encompasses 17,992 acres of marshland. Skirting the southern boundary of the salt flats of the Great Salt Lake Desert, the remote springs that run alongside the Pony Express National Historic Trail serve as an oasis for the most-used central route across the United States for westward-bound emigrants. Water is supplied by five major springs, which makes this refuge the perfect habitat for migrating wetland birds to stop and replenish before moving on. Mid-spring and late September are the peak times for viewing.
Scott M. Matheson Preserve
A great stop on your Arches National Park-area itinerary, the Scott M. Matheson Preserve is 875 acres of wetlands near Moab where birders have recorded 225 species of birds. Riparian species are common in this desert oasis but there is wide species variation throughout the year, especially during migrations and winter.
"Utah is home to three national wildlife refuges and a dozen other sites deemed "major birding locations" by Utah's Division of Wildlife Resources."