Flood Safety
Due to record snowpack and high amounts of spring runoff, please be advised of potential flooding that could impact travel plans.
Learn more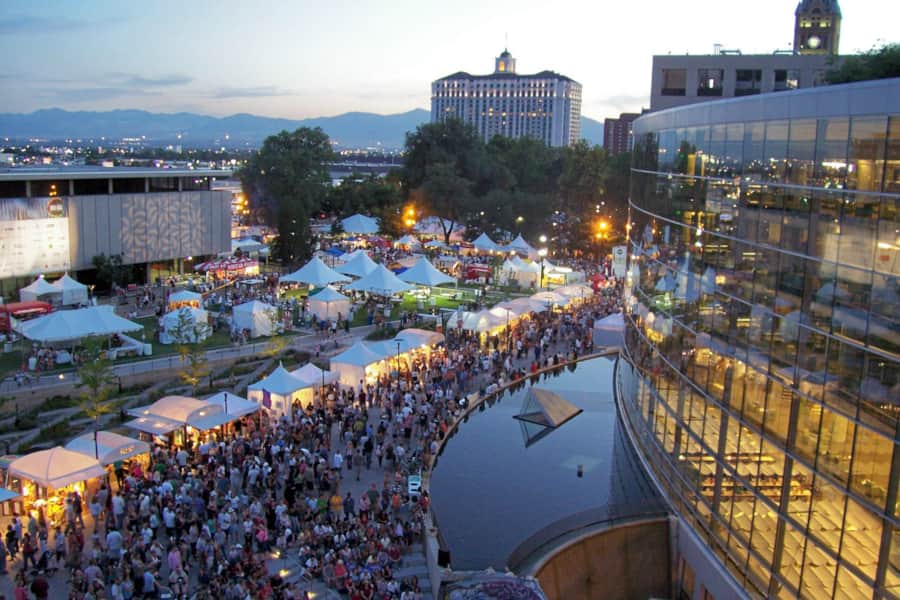 The Experience
As the summer sun sinks behind the City & County building, and gives way to a mesmerizing Salt Lake City sunset — one worthy of being painted — you surmise you can fit a few more items in your bags before the day is done. The Utah Arts Festival features more than 165 visual artists to choose from, so you're in luck. While 85 percent of the artists featured are based in Utah, the remaining lot exemplify various artistic and creative disciplines from other states and countries. Don't shop till you drop, though, because there are so many more attractions at the festival.
As you tour the grounds, fuel up with some of the culinary arts from the food alley. Munch on delicious barbecue, grab a sack of roasted mixed nuts, or pick up some pizza on the go — there are myriad options to choose from to rejuvenate. As you eat, discuss the flicks from the Fear No Film movie fest you watched earlier in the day. The film arts program offers more than 60 short films — juried in from applicants throughout the world — in the Main Library's 300-seat auditorium.
As your discussion winds on, you ponder that maybe you have it in you to be the artist one day; well, there's plenty of interactive art at the festival. Spy Hop, a family-friendly youth art education and empowerment non-profit, hosts a fun-filled booth for little ones and big kids alike. The Makers Faire lets would-be scientists and tinkerers tackle fun inventions and build gadgets. There's decorative hat-making and painting on large-scale sculpture in the kid's area — called the Art Yard. For grown-ups, there are Art Engagement Workshops, where professional artists conduct two-hour visual arts workshops each afternoon; the workshops are open to all adults, regardless of artistic knowledge or experience.
Performing Arts
The art stroll is inspiring by itself, yet the value of admission really soars with every opportunity you give yourself to witness Utah's best performance artists: think ballet and modern dance, jazz orchestras and symphonies, b-boy dance-offs and street theater, fiction and nonfiction readings, slam poetry competitions and storytelling, and so much more.
Don't stop there, because there's world-class music to be heard. During the course of its 40-year history, the festival has introduced patrons to musical legends and new favorites like Bela Fleck, Chris Robinson, Taj Mahal, Mary Chapin Carpenter, MOMIX, and Philip Glass, to name but a few. To celebrate this hallmark 40-year anniversary, though, the Utah Symphony, led by the heralded Musical Director Thierry Fischer, will return for the first time in 15 years. Over the course of the weekend, more than 100 live music performances are presented on six stages and range in every conceivable genre from local, regional, national, and international acts — check the festival's official website regularly to see when the updated lineup has been posted.
You truly do not want to miss the annual Utah Arts Festival. Multiple generations of Utahns and tourists have grown up partaking in the festivities, soaking up Utah history and heritage in the process. Your eyes are happy, your belly is satisfied, and your ears are ringing with delight. And if you feel like you've only scratched the surface, you're probably right. Good thing it's a four-day festival — stay for all of it to get the most exposure and inspiration.
A Festival With National Acclaim
Each of the festival's art vendors is picked by the festival's jury and they sell a wide variety of pieces in 2D/3D mixed media, ceramics, digital, drawing and pastels, fiber, glass, graphics and printmaking, jewelry, metalwork, painting, photography, sculpture, and wearable art that's decidedly outside the box. Since you can't decide on purchasing just one piece, you are, of course, filling up your bags quickly. But you're not the only one.
The art extravaganza hosts 90,000 guests annually. To better serve the city and its people, the festival offers more than 6,000 community outreach tickets to underserved and special needs populations. Tickets for general admission are a scant $12 at the gate (cash only) with price breaks for four-day and group packages. An affordable and robust arts experience that's worth every penny of the ticket price.
In 2016, the Utah Arts Festival received Utah's highest honor in arts and culture with the Governor's Leadership in the Arts Award. On a national level, it has received recognition as one of the top festivals of its kind by entities such as the International Festival Events Association, The National Endowment for the Arts, and The Art Fair Sourcebook. The festival is celebrated locally for fostering a multitude of community partnerships with business and nonprofit organizations. The whole shebang is coordinated and assisted by more than a 1,000 community volunteers each year.
Festival Location & Tickets
Located at Library & Washington Square
Fourth weekend of June annually
$15 per day, cash at the gate (advance tickets $13); 3-Day Festival Pass: $35
More info at: uaf.org