The 142-mile bicycle route from Brigham City to Provo is largely urban, but abundant side trips provide an exploratory feel. Wildlife enthusiasts should start the tour at the Bear River Migratory Bird Refuge, home to more than 270 bird species, where visitors can fish, hike, or simply cruise through the area via car. History buffs shouldn't miss a visit the Golden Spike National Historic Site, which commemorates the completion of the first Transcontinental Railroad. During the summer, the park does weekly reenactments of the driving of the last spike, and visitors can hike the Big Fill Loop Trail, which follows the original grades of the Central and Union Pacific lines.
After a day of exploring near Brigham City, camp at Willard Bay State Park, just eight easy downhill miles from downtown. Primitive camping ($16/night) at the South Marina is ideal for bike tourists looking to set up tents, and the park rents canoes and kayaks.
Willard Bay to Antelope Island
From Willard Bay, the route follows Highway 89, the Fruit Highway, into Willard. During summer and fall, local farmers set up stands along the highway, so cyclists here can load up on fresh produce as they head out of town.
It's 15 miles from Willard to Ogden, where cyclists can take a load off at Union Station. There's an exhibit for everyone at this cultural center, which features a museum dedicated to Utah railroads, firearms, and classic cars, the Utah State Cowboy and Western Heritage Museum, plus galleries featuring work by local artists. Tons of eateries line 25th Street between the station and City Hall Park visitors should note that Union Station is closed on Sundays.
The Prospector Rail Trail provides access from Ogden to camping at Antelope Island State Park. It's a novel ride out on Antelope Island Road, which crosses Farmington Bay. The White Rock Bay Campground is especially popular for its scenic views of Great Salt Lake, and cyclists should consider hiking one of the park's many trails for a chance at spotting one of the largest free-roaming bison herds in the country.
Antelope Island to Salt Lake City or Provo
In the morning, pedal the forty 40 mostly flat miles from Antelope Island into Salt Lake City via the Prospector Rail Trail. No trip to central Utah would be complete without a stop at its biggest tourist attraction, Temple Square, which draws as many annual visitors as the state's five national parks combined. Established in 1847 by Mormon pioneer Brigham Young, the square encompasses 35 acres of gardens, architecture, and cultural history.
Still looking for more adventure? Head into the Wasatch foothills to camp — this also means significant climbing — or settle in at the Salt Lake City KOA, just two miles from Temple Square, for around $35 per night.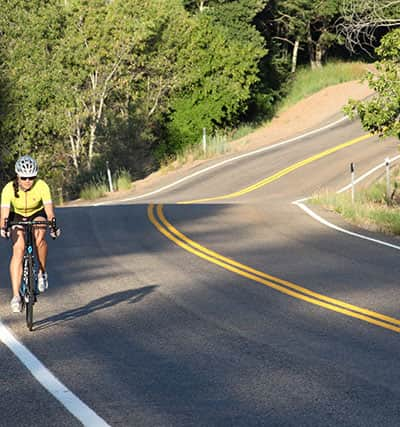 It's 55 miles, mostly on the Jordan River Parkway and Murdock Canal Trail, from Salt Lake City to Provo. There's little camping on this stretch, which is also the most strenuous leg of the journey — 1,000 feet of vert in total, though just under 400 feet of net gain — but thanks to its urban nature, it's possible to find lodging to break the trip into two days.
The adventure doesn't have to end in Provo, a road cycling hub that once ranked second in Outside Magazine's Best Cities contest. Consider heading up Provo Canyon, which runs between Mount Timpanogos and Mount Cascade, to check out one of its nine gorgeous municipal parks. Camping near Provo is available on the shores of Utah Lake ($30/night) in the state park of the same name. The park also offers SUP rentals and sailing lessons.
At the end of the line, cyclists can pedal back to Brigham City, but for tired legs, there are less ambitious alternatives, too. A shuttle from Provo to Brigham City is less than $45 per person with Salt Lake Express. For travelers on a budget, the FrontRunner commuter line runs from Provo Central Station to Ogden, and the 630 bus takes about an hour from there to Brigham City for a total trip time of about three hours.
The total one-way mileage for the ride is 142 miles, and has a net gain of just over 100 feet, but with some climbs (1,329 feet) and descents (1,214 feet). It's relatively flat until the climb out of Draper. Here is a map for more details.