Hiking & Backpacking
For hikers and backpackers alike, Canyonlands National Park is a must-visit. Here, trails range from short day hikes to multi-day expeditions, depending on the region you're hiking in. The park is divided into three different regions: The Needles, Island in the Sky and The Maze. Read on to learn more about each region, or explore each region's best hiking trails.
The Needles
The Needles district is home to the most established hiking trails (about 74 miles), and is generally the most popular destination for visitors. These trails are well-maintained, with lots of loop trails and a good selection of easy to moderate hiking options as well as backpacking opportunities. Most trails have sections of slickrock, so get used to following cairns to find your way.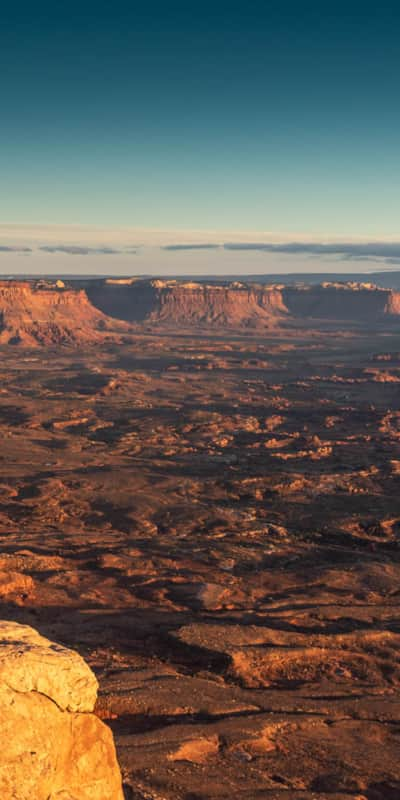 Island in the Sky
Although the trail network in Island in the Sky is not as extensive as The Needles, hikers can still have their pick of wonderful hikes. The serious hiker will enjoy one of the many trails that drop off the mesa and connect with the White Rim Trail, but there are also a number of excellent short hikes that stay on top of the mesa. If you're feeling up to it, try and make time for both types of hikes — the views from atop and below the mesa are equally incredible.
The Maze
The Maze district is certainly the most remote area in the park, and quite possibly the most remote place you've ever been. This network of twisted sandstone canyons is for seasoned hikers who can take care of themselves and their vehicle. Be aware that when you venture in The Maze, you're on your own, and you should consult with a ranger at Canyonlands Visitor Center first. However, once prepared, you'll be embarking on a journey that most anybody would be envious of.
Camping
Wondering where to stay for the best access to trails? Camping opportunities abound in Canyonlands, from established camping at one of three developed campgrounds to more solitary camping in BLM-managed public land. Most campers will stay in either Needles Campground, Willow Flat Campground or nearby Dead Horse Point State Park Campground, but the backcountry camp areas are worth visiting as well.
Needles Campground lies just 3 miles west of the Needles entrance station. The Needles Campground has 26 individual sites for $20 per night. You can reserve some individual sites in spring and fall. Other times of the year, individual sites are first-come, first-served. Sites fill quickly in spring and fall. The campground has drinking water, fire pits, picnic tables, tent pads, ADA sites, and flush and vault toilets. Plus, large groups can reserve a group campsite that accommodates up to 50 people and 10 vehicles. These cost $3 per person per night, and the group sites are not open during winter. Reservations are accepted for regular and group campsites, so book early.
The smaller, yet equally beautiful Willow Flat Campground is located about nine miles southwest of the Island in the Sky entrance station. Willow Flat has no water, so be sure to come prepared. There are 12 basic sites (first-come, first-served, $15 per night) with fire pits, picnic tables, tent pads and vault toilets. Junipers and piñon pines decorate this small campground, which is a good place from which to explore the Island in the Sky section of Canyonlands National Park. A number of trails can be found nearby, leading to striking vistas, arches and other geologic wonders. Campers should be sure to visit the Green River Overlook for a chance to see one of the finest sunset viewpoints in the park.
Last but not least, Dead Horse Point State Park can be reached by turning east of UT 313 before you enter Canyonlands northern entrance. The campground at this state park has electrical hookups and water, and, unlike the first-come-first-served national park campgrounds, reservations are available online. If camping's not your style, there are plenty of hotels in nearby Moab.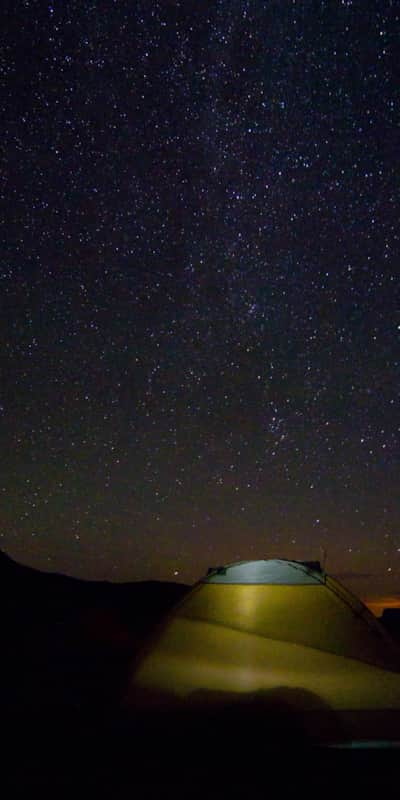 Mountain Biking
Although there is no singletrack mountain biking in Canyonlands, the 100-mile White Rim Road at the Island in the Sky is a go-to bikepacking trip for riders. This classic bike tour takes riders below the steep cliffs at Island in the Sky and promises ever-changing scenery — some of the best in Canyonlands. Plan on taking two or three days for the entire trip. We recommend that you have a capable support vehicle with you to carry supplies and, most importantly, extra water.
The Maze also offers multi-day biking opportunities, but will be even more demanding. If you ride in this district, make sure your support vehicle is up to the task. Guided trips are available for many routes in Canyonlands, and hiring a guide would be a good idea if you want to venture into the Maze.
Primitive campsites are available along many of these bike routes. Permits are required for camping, and for single day trips. White Rim Road in particular is very popular, so plan on making your camping permit reservations months in advance.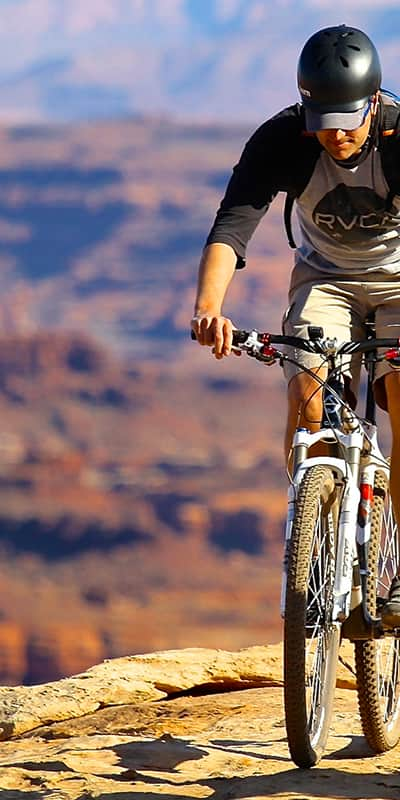 Guided Tours
As the largest national park in Utah, Canyonlands can be daunting to approach on your own. With a guided tour, not only will you have your pick of the best viewpoints, trails and experiences the park has to offer, you'll develop a stronger connection with the land. The local guides that frequent Canyonlands National Park are advocates for its natural beauty and protection. Exploring the park with a seasoned pro will help you learn how its commanding canyons were formed, discover the rich Ancestral Puebloan culture that's found within, and be better prepared for your next solo adventure.

Guided hiking tours, scenic drives, rafting tours and biking tours are all available. To get started, start exploring Canyonlands guided tours.
Whitewater Rafting
Looking for a more adrenaline-filled way to spend your time? Canyonlands is home to the Cataract Canyon section of the Colorado River, a whitewater rollercoaster known as North America's most exciting whitewater rapids during the spring runoff season. Rafting Cataract Canyon can take anywhere between three to five days to complete. Guided trips are available, and recommended for those who don't have advanced rafting experience. The feeling you'll get as you the Class III-V rapids of "The Confluence" may only be topped by a sense of awe as you float below the canyon's towering red rock cliffs — so be sure to pack your swimsuit.
To get started, learn more about rafting near Canyonlands, or start comparing local guides for your trip.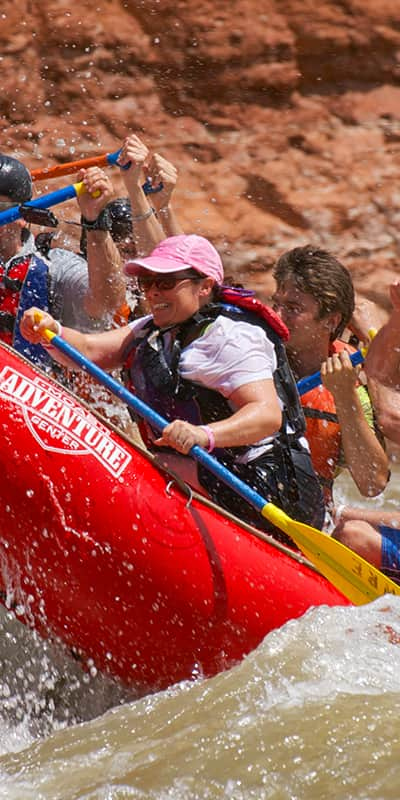 Scenic Drives
There's no easier way to experience Canyonlands and it's natural beauty than by car. Two paved roads lead into the park: UT 313 from the north, and UT 211 from the east. There are also many dirt roads to explore for those who are equipped with four-wheel-drive vehicles and prepared for the rigors of desert travel.
The well-marked turnoff for the Island in the Sky district of Canyonlands National Park is on the left at Highway 313, 6 miles north of the Arches turnoff on U.S. 191 north of Moab. A few miles along Highway 313, note Monitor and Merrimac Buttes on the right, looking like their namesake Civil War ships. Eventually you'll come to a prominent fork: Dead Horse Point State Park is 4 miles to the left, and Canyonlands/Island in the Sky is 4.5 miles straight ahead. Dead Horse Point is an isolated promontory of stone jutting out over the deep gorge of the Colorado River, and offers one of the best photo opportunities anywhere in the park. The overlook provides some of the most famous views in the region, especially of the Colorado River 2,000 feet below. It is well worth a side trip.
Island in the Sky, the name given to the elevated northern section of Canyonlands National Park, is almost precisely that: an isolated piece of land far above the deep canyons of the Green and Colorado Rivers. And it certainly does have the airy and Olympian aura of a floating island, detached from the earth below. This narrow "peninsula in the sky" was, in fact, carved by the two great rivers as they flowed ever closer to their confluence at Cataract Canyon. The views from this height are spectacular in all directions, and several strategically placed overlooks offer fine panoramas and short, easy trails with interpretive signs describing the intricate maze of canyons below.
The Needles district of Canyonlands National Park has about 10 miles of paved roads. The longest branch of the paved road leads to Big Spring Canyon Overlook. Along the way are several stops at man-made or geological points of interest. You will drive in on the Indian Creek Scenic Byway; make sure you stop at Newspaper Rock before you get to Canyonlands. It is one of the better roadside petroglyph panels in Utah. A 50-foot-high sandstone face is covered with a variety of fine petroglyphs from several periods.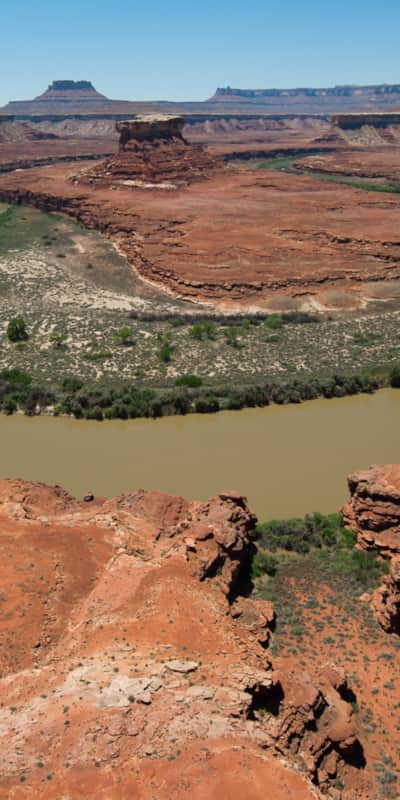 Stargazing
Come nightfall, Canyonlands National Park (and much of the land surrounding Moab) is cloaked by some of the darkest night skies in the world. Since the park is so desolate, and many areas are miles from the nearest civilization, there is no light to inhibit your view of the galaxy. As a result, Canyonlands has become a world-class destination for stargazing and photography (day or night). No matter what brought you to the park, be sure to pack a chair, some binoculars, a flashlight and your camera — you may find yourself gazing into the night skies to find more stars than you've ever seen before.