The Coyote Canyon Loop
A classic Heber Valley mountain bike ride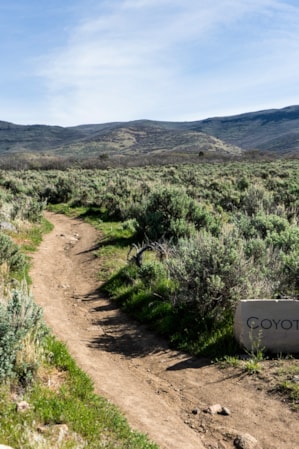 Trail Guide
Difficulty: Intermediate to Advanced
Distance and Elevation Gain: 20 miles round-trip, 2,000 feet
Trail Type: Singletrack with some rocky sections
Multi-Use: Mountain Bikers
Dogs Allowed: Yes, on leash all times.
Fees: None
Seasonality: Spring, Summer, Fall
Restrooms: None
Trailhead GPS coordinates: 40.531345,-111.4037732 (Coyote Lane and Valley Hills Blvd parking lot trailhead). Additional trailheads below.
Utah has such an insane amount of great mountain biking it's almost hard to fathom. There's no doubt that Park City has one of the best trail systems in the world (the whole town is an IMBA-certified Gold-Level Ride Center) and Moab is world-renowned for its stunning red-rock landscapes. But if you want to escape the crowds, or are looking to ride early in the season when many trails are still snowy and muddy, nearby Heber Valley's Coyote Canyon Loop is an excellent alternative. Located on private land whose owners graciously allow cycling, the 20-mile trail offers spectacular mountain vistas, sheep-dotted landscapes and quite the workout for those who want it.
What's it Like?
Built in 2013 by the Wasatch Trails Alliance with help from Utah Valley University, Coyote Canyon Loop quickly became one of Utah's must-do classics. This 20-mile loop of expertly built singletrack snakes its way across rolling fields of sage and scrub oak, dense aspen groves and maple trees and even through chokecherry and currant bushes. In the spring, it's also a prime location to see Utah's state flower, the Sego Lily, in full bloom.
How Hard Is It?
Most of the riding is considered intermediate; however, there are a few rock gardens here and there that bump up the level to advanced. True beginners may find themselves walking short sections. Riders should be prepared for the length and the amount of climbing on the route as well. It happens to have some of the best panoramas in the area, but those views are well earned. And you should be prepared for quite the quad burn, with about 2,000 feet of climbing on the whole loop.
What Is There to See?
Right after the first big climb around mile six, riders are rewarded a massive sweeping vista of the peaks of the Uintas to the northeast and the Wasatch Back to the west. The 11,752-foot Mount Timpanogos, or, as locals often call it, Timp, is the second-highest peak in the Wasatch Range and dominates the skyline from the top of the trail. Other notable peaks include Provo Peak, Little Matterhorn, White Baldy, Sugarloaf, Sunset Peak, Bonanza Flat, Jupiter Hill and Lone Hill.
One unique aspect of the trail: It's located on land privately owned by the Sorensen family, who still uses it to graze their sheep. Don't be surprised if you come around a turn and see a large flock standing there. You'll probably get barked at by the protective sheepdogs, too. Don't worry, their barks are just warnings, as sheepdogs don't tend to bite. It will get your attention, however; just stay focused on your ride and leave them to their flock.
Which Direction?
The general consensus is that riding counterclockwise is the better way to go. That way, you climb up the switchback sections and have a fast, flowy descent down the Riverview Trail back to the car. Either way you go, you'll have great views to the west of Heber Valley, as well as Deer Creek and Jordanelle reservoirs.
When to Go?
Coyote Canyon is typically snow free by early May and stays that way until October. Its full exposure tends to dry out a bit faster than up in Park City. There is almost no shade on the entire trail, so avoid afternoons in the summer. The wide-open riding makes it a perfect candidate for night rides on those warm summer evenings though. Bring plenty of water and slather on that sunscreen, since the starting altitude at the UVU trailhead is 5,800 feet, and the trail tops out at 7,550 feet on the ridgeline above Coyote Canyon. During winter, it becomes a popular fat-biking trail.
Other Ride Options
You can also ride Riverview as an out-and-back. To do so, head as if you're going to ride it clockwise and make a left at the first intersection. After topping out on the climb after 7.5 miles, turn around and rip back down.
If you're going counter-clockwise, there is a trail marked by cairns on the left that heads up a series of switchbacks. This is called the Chop'd Coyote Trail and it cuts the ride in half.
Getting There
From Salt Lake City, head east on I-80 past Park City to the Highway 40 exit. Go south on 40 toward Heber City. After dropping down into Heber Valley and past the Jordanelle Reservoir dam, there is an intersection with a light. Go left on Highway 32 for one mile until you see the gravel pullout for the Riverview Trailhead on the right just after mile marker 1. You can't miss it.
Alternatively, there are three other trailheads that access the Coyote Trail:
Remember, this is private land that the owners graciously allow riding on. Treat it well, don't spook the sheep and have fun.