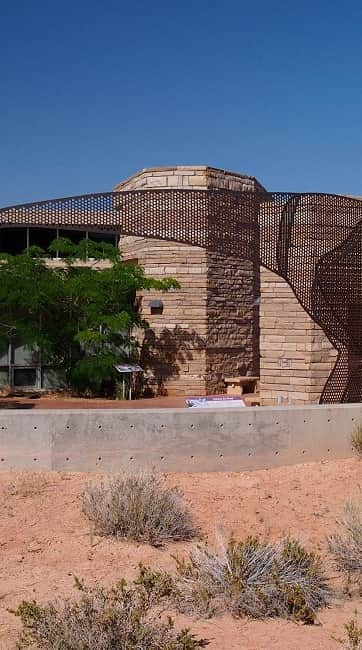 Visitors to this environmentally conscious and Ammonite- (a fossil that has some resemblance to a nautilus) shaped building, will be greeted by a replicated dinosaur dig in the courtyard where informative signs are on display. Inside you will find an impressive display of real dinosaur relics along with a large painted mural depicting the Late Cretaceous Period. Pamphlets describing the exact dinosaurs that once roamed the area are also available. Visitors are welcomed and encouraged to watch a short film that highlights the region and its fantastic history.
Among the displays at the visitor center is a large topographic map of the Grand Staircase–Escalante National Monument. If you are looking to explore the area's coolest geology, ask for directions to the Wahweap Hoodoos or the Paria Rimrocks Toadstool Hoodoos. (Read:"
Utah's Unexpected Pit Stops
".) These hoodoos are comprised of white spires of earth that shoot skyward and are topped with dark volcanic boulders. All of the current staff at the Big Water Visitor Center are a wealth of good information. Along with answering any questions you may have about paleontology and geology, they are experts on a number of the area's most popular sites and hikes.
The Big Water, Utah Visitor Center also has a clean, shaded picnic area that makes for a perfect place to snack when the weather is nice and let the kids and pets out of the car. If you are heading south to the secluded North Rim of the Grand Canyon, be sure to stop by and see the Glen Canyon Dam on your way. If your vacation is taking you west toward
Zion National Park
, you will have to stop in Kanab for a glimpse into the Old West, and tour sites where classic western films were made.
Whatever direction you are heading, a brief stop over to the Big Water Visitor Center offers a cool escape from the summer heat along with ancient history lessons of the region that will be enjoyed by all.
GPS Coordinates: 37.0632121, -111.6454729