Trail Guide
Difficulty: Moderate
Distance: 11.8 miles, out and back
Elevation gain: 777 feet
Trail type: Paved road
Trail uses: Walking, hiking, running, biking
Dogs: Allowed, on leash below Site #16.
Fees: None
Seasonality: From Memorial Day (last Monday in May) through September, cyclists are allowed only on odd-numbered calendar days, every day for rest of the year. Canyon is also closed to bicycles on July 4, July 24, Memorial Day and Labor Day.
Bathroom: Open year-round at the gate house trail head and at two locations in the canyon (closed in winter).
Pro Tip: Near the top of the canyon, take a refueling stop at "The Grotto" a picnic area in Rotary Park and enjoy a quick rest down by the creek before your descent.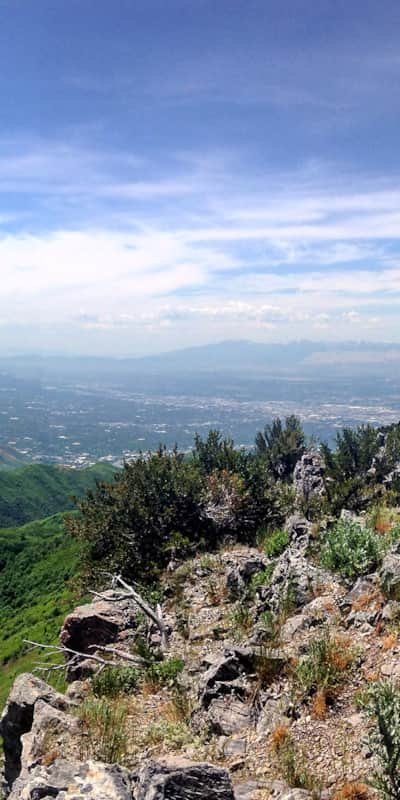 Trail Description
Easily one of Salt Lake City's most popular canyon rides (with hiking options, too), City Creek is a quick road bike trail ride easily accessed from the city's center. The appeal for cyclists is obvious:
City Creek Canyon was set aside by early LDS Leaders as a nature preserve.
It is now protected as a watershed area.
A paved road runs the entire the length of the canyon but it is essentially car free.
Signage segregates foot traffic to one side of the roadway allowing a clear shot for your ride up and down.
The road is only used by city utility trucks and occasional day users who have reserved one of the organized picnic areas.
Starting from the gatehouse trail head, you'll begin climbing into a shady lane emerging periodically into wide meadows. The nearby city falls out of mind quickly as you begin to grind up this magnificent road bike trail. And it is a grind. City Creek's accessibility belies its unrelenting climb and while the grade is not grueling, it is steady with little respite. The ride is full of false summits — hills you've thought you've conquered but then reveal yet another push around the bend making it one of Salt Lake City's best biking roads. Salt Lake-area cyclists prize the roadway for its reliable climb and blissful car free status. It is not, however, entirely traffic free so remain alert. Walkers and joggers often stray across the roadway and although dogs are required to be kept on short leashes, keep an eye out for long leashes and ranging canines across the trail, especially on your descent. And about that descent: It is fast and full of quick turns so stay on your brakes and abide by the posted 15 mph speed limit that is easy to overtake if you're not careful. During winter, the roadway can be icy so if you chose to brave this road during the cold season, use extreme caution.
If there was one classic Salt Lake ride, this is it and the journey can include numerous options to extend the miles. For example, you can take Salt Lake City's bike-friendly streets to work your way over to the area below the University of Utah (1300 East) and then use Virginia Street to climb up into the Avenues (steep but short). Cruise along bike friendly 11th Avenue above the city for excellent views and hit Bonneville Loop Boulevard to East Capitol Boulevard, which has one lane dedicated to walkers and cyclists to access the spur that leads to the gate house trail head. After you dogleg the canyon itself, continue along Bonneville and emerge behind the Utah State Capitol building, where you can sit on the grand steps and watch the sunset.
Find It
Nearest destinations: Utah State Capitol, Memory Grove, Temple Square and Downtown Salt Lake City
Trailhead parking: At gatehouse trail head, the State Capitol and atop Virginia Street
Trailhead GPS coordinates:
City Creek Canyon
40.7901163, -111.8790134
Bonneville Boulevard (near the Utah Capitol)
40.7796673, -111.8855008
Bonneville Boulevard (11th Avenue and B Street)
40.7819339, -111.8819925
Contributed by Jeremy Pugh