Red Butte Garden tucks neatly into the foothills of Salt Lake City, just 4.5 miles from downtown. Sensational views can be found in every direction, with the mighty Wasatch Mountains above and the Salt Lake valley below.
While enjoying a peaceful stroll or tour through the garden, be sure to visit respectively and avoid touching or picking the plants and flora that surround you.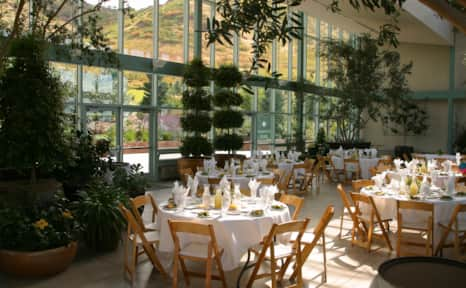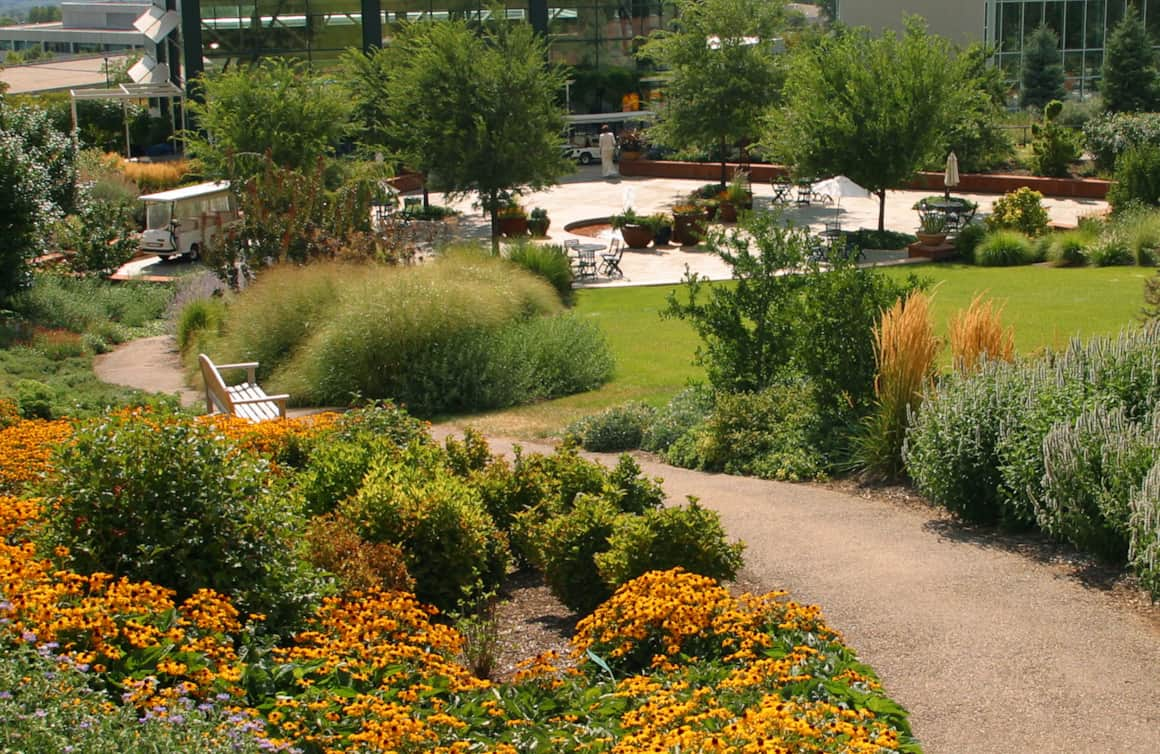 Themed Gardens
Children's Garden

The Children's Garden offers a kid-friendly — and parent-approved — place to explore, picnic and play. The splash pad is a big hit, as is the grapevine-covered "snake" tunnel. Bright-hued flowers such as penstemon, Indian paintbrush and sunflowers grow at children's eye level. Parents and older kids can use the TaleBlazer app (which uses the Massachusetts Institute of Technology's TaleBlazer software) to play games based on GPS-enabled input gathered from the garden.

Fragrance Garden

The pathways of the Fragrance Garden meander through bridges, fountains and full-sun flower beds bursting with colorful and fragrant wildflowers, such as lavender, yarrow, salvia and sage. The same paths also provide a sensational aisle for wedding ceremonies. As guests look on, couples join each other in the shade beneath the Fragrance Garden's grand wisteria-covered pergola, before the entire party heads inside to the Orangerie for the reception.

Medicinal Garden

Hippocrates once said, "Nature itself is the best physician." Red Butte Garden's Medicinal Garden highlights plants with medicinal properties like Pot Marigold (Calendula officilalis) and Sage (Salvia officinalis), alongside yearly themes like emotional and mental wellness, forest medicine and cancer-fighting flora.

Water Conservation Garden

As one of the newer additions to Red Butte Garden, the Water Conservation Garden lives up to its name. The tiered garden grows native Utah plants including Spider Milkweed, Sea Kale (Crambe maritima), Princess Victoria Louise Poppy, Aunt Dee Wisteria, Showy Beardtongue (Penstemon cobaea) and Blue Satin Rose of Sharon (Hibiscus 'Blue Satin). These varieties thrive in dry climates, cold winters and alkaline soil, and are grouped together according to their water needs for even more impact on conserving water.
Events
Events & Workshops

The garden buzzes year-round with activity. Red Butte Garden hosts local art exhibits, yoga and meditation workshops, bird walks, cooking and cocktail classes, plant sales, orchid shows, kids' camps and, of course, garden tours. Garden After Dark offers a safe way for kids (costumed or not) to enjoy the Halloween season, and the Holiday Open House showcases a marketplace of unique handmade gifts like jewelry, glass art, pottery and fiber art from local artists.

Red Butte Garden Outdoor Concert Series

In the summer months, the Garden Amphitheater hosts world-class music acts for the famed Red Butte Garden Outdoor Concert Series. Popular shows sell out quickly to Red Butte Garden Members when tickets release in the spring. Pack a picnic or preorder dinner to be picked up onsite. Bring a blanket, low-back camp chairs and a favorite summer cocktail, then dance to live music under a canopy of summer stars.