Driver License Requirements
The minimum driving age in Utah is 16 years old. All drivers must have a valid license. Visitors from other states or countries may drive in Utah as long as they have a current driver license and are at least 16 years old.
Speed Limits
On most highways, the speed limit is 65 or 70 miles per hour, particularly in urban areas along the Wasatch Front and eastbound to Park City. Speed limits increase to75 or 80 miles per hour on interstate highways and 65 miles per hour on some state highways. These increased speeds are only allowed where they are clearly posted. Transition zones from one speed limit to another are indicated with pavement markings and additional signs. Watch for decreased speed limits on state highways that pass through towns.
Turning Right on a Red Light
Right turns are allowed on a red light after the vehicle has come to a complete stop, except where signs prohibit.
Stop Signs
A full and complete stop is required at all stop signs.
Seat Belt Laws
Children ages 8 and younger, unless over 57 inches tall, must be properly restrained in an approved child safety seat. Youths ages 8 through 18 must be restrained in a car seat or seat belt. For a person age 19 or older, not wearing a safety belt is a primary offense. This law applies to all seating positions that are equipped with seat belts.
Helmet Use
Helmet use is mandatory for motorcyclists and motorcycle passengers under the age of 18.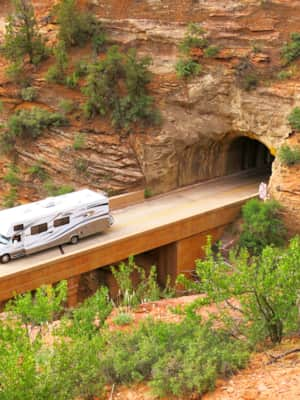 Wheeling It: An RV Primer for Utah Family Trips
With 28-feet of vehicle space, one traveling family discovers the RV community.