U.S. Federal Shutdown Information
All of Utah's Mighty 5 national parks will remain open.
Learn more.

Local Highlights
Benson Grist Mill

This mill was made of rock and wood by skilled pioneer artisans over 150 years ago. From 1854 to the 1940s, the Benson Mill processed wheat and corn by the ton. Now, this historic site hosts monthly events, including a farmers market, garden tour and pumpkin walk.

Deseret Peak Wilderness

Deseret Peak Wilderness is located in the Stansbury Mountains of Tooele County, near the towns of Tooele and Grantsville, not far from the Great Salt Lake. This semi-arid wilderness is part of the Great Basin ecosystem. It contains rugged terrain and high peaks that include Deseret Peak itself at 11,030 feet, and many steep-walled canyons shadowed by rocky outcroppings.

Historic Wendover Airfield & Museum

Take a step back to WWII for a fascinating look at the secret Manhattan Project and how this base was used as a training site for the bomber pilots, including those bound for Hiroshima and Nagasaki. The base is recognized as a National Historic Site and guided tours are offered on days that the museum is open.

Oquirrh Hills Golf Course

Play an 18-hole round at this championship facility with the Oquirrh Mountains in the background. The course was originally built in 1949 and was updated in 2007, finally adding the back nine holes to complete the 18-hole green.

Oquirrh Mountain Mining Museum

Tooele's mining history dates back to the early 20th century when settlers staked claims in the Oquirrh Mountains. Miners first dug into the Kennecott Copper Mine in the early 1900s and by 1930, Tooele was a booming mining town. Explore Tooele's mining history and learn about the world's largest open-air copper mine at the Oquirrh Mountain Mining Museum.

Pony Express National Historic Trail

This National Historic Trail follows the path of the Pony Express riders, a horse-relay system that helped mail cross the continent in a matter of days, rather than weeks for a brief time from 1859–1860. The route is hardly less rugged than it was in the Pony Express days, with the exception of an improved dirt road, intermittent plaques and historic sites and blossomed cities on the perimeters. See: West Desert Ramble and the Pony Express itinerary

Prospector OHV Backway Complex

This complex offers 440 miles of backcountry trails along old mining and historic county roads. Check out the Sheeprock Mountains Loop and the Simpson Mountains Loop. They are open for public use and maintained.

Tooele Pioneer Museum

The Goshute people were the first to reside in Tooele County, occupying the Oquirrh Mountains and the Great Basin area west toward Nevada. Mormon pioneers migrated to the area in the mid-1800s and began further development. The Tooele Pioneer Museum is your chance to dive into Tooele's history with exhibits on native Goshute and pioneer artifacts.

Tooele Valley Railroad and Mining Museum

What would a mining town be without a way to transport the materials? Peak into the history of Utah's railroads and tour the last operating steam locomotive in the state at Tooele's railroad museum.

Utah Honey Harvest Festival

Held annually in the fall at Clark Historic Farm in nearby Grantsville, enjoy honey tasting, beekeeping demonstrations, wagon rides, a craft fair, the Sweet Fiddlin' Fest and so much more.

Utah Motorsports Campus

One of the nation's premier motorsports facilities, this campus has hosted events ranging from the Utah Grand Prix and the Larry H. Miller Tour of Utah to the Pirelli World Challenge, AMA Superbike Championship and NASCAR. Amateur Track Days (ATD) is a unique program presented by Utah Motorsports Campus that allows enthusiasts to drive their street or race-prepared car at speed on our world-class racetrack in a non-competitive environment. Prices vary by event. Utah Motorsports Campus is located 30 minutes west of Salt Lake City.
Country Fan Fest

Country Fan Fest is the largest outdoor country concert in Utah. The outdoor concert is located at the Deseret Peak Complex and features overnight camping, two stages and a water park. Attendees have the option to camp throughout this 4 day event and wake up to country tunes from over 20 popular country music artists. General admission, VIP and mega VIP tickets available.

Deseret Peak Complex

The Deseret Peak Complex is open to the public and offers many events throughout the year, from rodeo to BMX to motocross to archery. The complex is about 35 minutes west of Salt lake City and features something to satisfy every sport enthusiast's hunger for excitement. There you'll find RV camping sites, equestrian race tracks, baseball and soccer fields, playgrounds, bike trails, an aquatic center (featuring an eight lane Olympic size pool and a wading are) and many more amenities. It's worth visiting if you have children, are interested in joining a league or taking lessons, or wanting to find your next adventure!

Deseret Peak Hike

Standing at 11,033 feet, Deseret Peak is the tallest peak in Tooele County. Bag the summit on this 7.4-mile hike to catch unobstructed views of the Great Salt Lake, the salt flats, and the Oquirrh and Stansbury Mountains rising from the landscape. Begin the hike at the Loop Campground Trailhead and be sure to bring plenty of water — this is the desert, after all!

Ophir Canyon Education Center

The Ophir Canyon Education Center strives to enhance, enrich, and provide educational and recreational opportunities for students, teachers and the general public. The education center leverages community support and strives to strengthen and improve public education. The education center provides a variety of activities for grades K-12, such as outdoor learning, book walks, art exhibits, gardening and more. Community members can involve themselves in a yearly tree planting project, Transition Business Partner Dinners, Quarters For Christmas, and filling backpacks with school supplies for students in the Tooele County School District. Summer classes such as rock climbing, photography, painting and more are offered as well! Classes are for ages 10-14 unless otherwise noted in the class description.

Settlement Canyon Reservoir Fishing

This freshwater reservoir is just two miles from Tooele and has an abundance of beautiful rainbow trout in its waters. While watercraft are not allowed for fishermen, you can still enjoy a great day and reel in a great catch from the shore.

South Willow Lake Hike

Leaving from the same trailhead as Deseret Peak, you can also take the slightly shorter trek to South Willow Lake. This scenic lake is pooled beneath craggy peaks, and early summer brings plenty of colorful wildflowers. Just like any hike in the area, be sure to bring plenty of water along for the adventure.

Utah Fire Museum

The Utah Fire Museum is home to vintage fire apparatus and a diversity of interpretive displays from around the state of Utah. It captures the history, dangers and rewards of the firefighting profession in Utah. Guided tours of this informative facility are available by appointment only. Additional features include the firehouse, which can be used as an educational tool teaching students the importance of fire safety through a video and hands on experiences. The firehouse along with a guided tour is perfect for helping young scouts obtain fire safety merit badges. The Utah Fire Museum is located at the Deseret Peak Complex. The museum is open to the public. Special arrangements can be made for school parties or special situations.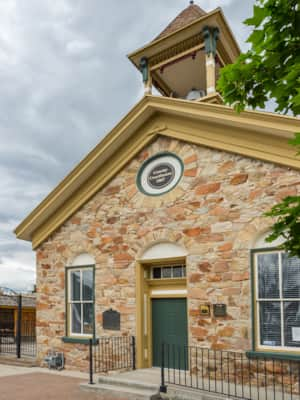 Tooele? Tuilla? The Fascinating History of this Utah Town
While the town of Tooele has a fascinating story to its name, the best part about one of Utah's original counties is its history.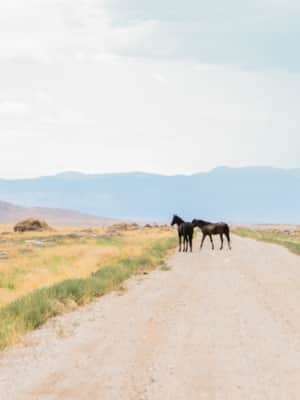 What Hasn't Been Found
Heritage, families and legends converge along the historic Pony Express route in Utah's West Desert.