What to Wear on a River Rafting Trip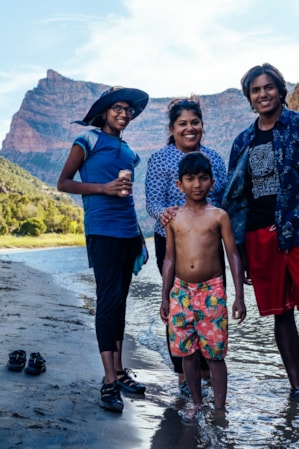 Baseball Cap
Your outfitter will provide you with a helmet, but if you like, you can wear a baseball cap under it. This is nice to have when you take your helmet off for lunch or after you're off the river.
Sunglasses
You may think it's a good idea to bring a cheap pair of sunglasses that you don't care about losing on the trip and this is not such a bad idea, as long as the lenses protect your eyes against UV rays and light refraction, which can lead to visual distortion and eye fatigue. Good sunglasses will block up to 97 percent of the light coming into your eyes. Opt for frames that aren't metal as they'll get hot. Sunglasses with polarized lenses are life-changing.
Sunglasses Strap
If you won't want to sacrifice your sunglasses to the river gods, use a sunglasses strap. They are very affordable and you'll find many uses for them beyond the river. Chums and Croakies make straps that float.
Buff or Handkerchief
A Buff is a lightweight tube of stretchy multi-functional head and neckwear and are even available with built-in insect repellant. The Buff brand is like the Kleenex of this category. You can wear it around your neck, on your head, or both. It's a great thing to wear no matter the adventure. You will find a million uses for it. Handkerchiefs are also a popular accessory.
Swimwear
This may seem obvious, but yes, you should wear swim attire to go river rafting. You may think you'll be OK just getting your shirt and shorts wet, but no. When temperatures surge and you get the opportunity to jump in for a swim, you'll be very happy to take that chance.
Quick-Drying Shirt
It's nice to have a quick-drying layer to wear under your personal flotation device. NRS makes a great snap-button, long-sleeve shirt that has UPF 35. With a shirt like this, you can dip it in the water and put it back on to cool off. It will be dry in minutes. You could also wear a rashguard, but they don't dry as quickly. You can only put on so much sunscreen, so it's good to have this kind of shirt to wear for sun protection and in case you want to do any off-shore excursions.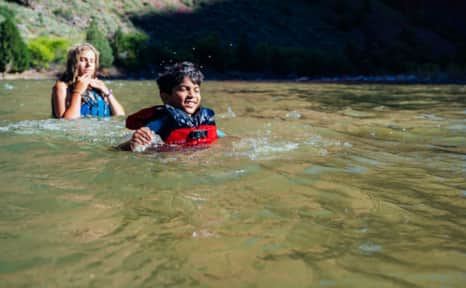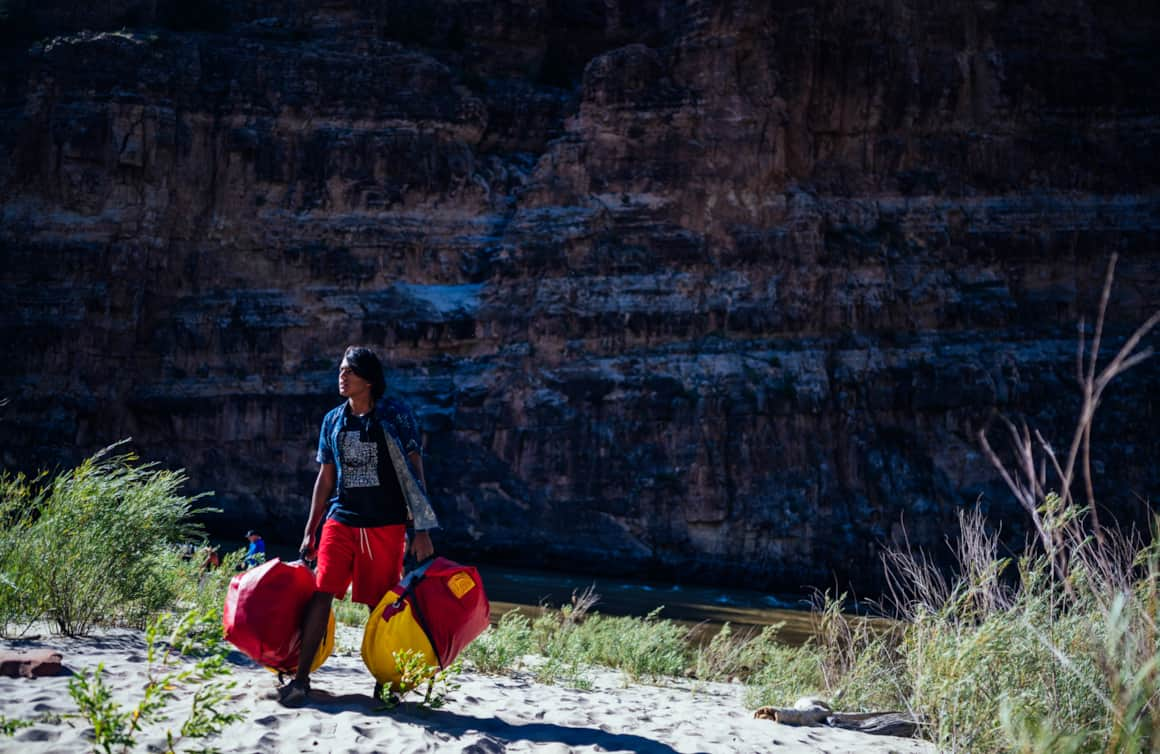 Quick-Drying Shorts or Skirt
These are an optional item, but something to consider. Some ladies like to wear a pair of quick-drying shorts or a skirt over their swim bottoms. These are especially helpful to have for lunch on the shore, a side hike, and as soon as you get off the river.
Water Shoes
You'll need something that will stay on your feet during rapids or if you swim, so avoid wearing flip flops on the river. Pick a shoe that will dry quickly, so you don't get raw feet, and a pair that will be good for side hikes and hanging out on the shore for lunch. Popular brands are Astral, Chaco, Teva and Keen.
Sunscreen
Cover yourself in sunscreen. And then do it again after a couple of hours, especially if you've jumped in the water or been a victim of an ambush water fight. Don't forget to apply it to your feet, under your chin, and your ears. All Good, Badger, Bare Republic, Beyond Coastal, and Sun Bum are environmentally-friendly and use clean ingredients.
Lip Balm with SPF 30
Unless you're aiming for that swollen, burnt look, bring a tube of lip balm on the river with you and make sure it has an SPF of at least 30. Kiss My Face, Sun Bum and Pacifica are great brands that are water-resistant and cruelty-free.
20-ounce Insulated Water Bottle with Loop Cap
Bring a water bottle that can hold roughly 20 ounces of water and has a loop-cap top so that you can use a carabiner (add this to your packing list) to attach it to the boat rope. Your river guides will happily refill it for you along the way. Wide-mouth openings are the best for this scenario and if you want to keep your water cold, you'll want an insulated version. Hydroflask, Klean Kanteen, Yeti and Nalgene are popular options.
Waterproof Day Bag
Bring a waterproof bag that you can have at hand for quick access to your towel, lip balm, phone, etc. Some people choose to leave their phones behind so they don't get them wet or lose them, but if you want to bring it, a waterproof bag is a good way to keep it safe. The guide company will supply you with a large pack for overnight gear and a day bag to keep your things in, but if you want to buy your own, SealLine and Chums make great waterproof day bags.
Quick-Drying Towel
Bring a lightweight, quick-drying towel that compacts down. You'll want something that's super absorbent. There are showers available at some of the river rafting shops for you to use after your trip, so it's good to have a towel you can use to dry off with even if you don't end up using it while you're on the river. Packtowl has some great technical towels that are perfect for river trips.
Watch a video of a mom and her three kids on their Gates of Lodore rafting trip.
See some of the unique perks of going with a guide.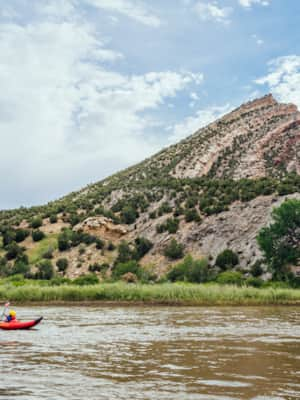 Guided Rafting Through the Gates of Lodore
Explore guided rafting expeditions through the Gates of Lodore, one of Utah's most sought-after whitewater rafting trips with Dinosaur River Expeditions.