U.S. Federal Shutdown Information
All of Utah's Mighty 5 national parks will remain open.
Learn more.
Fisher Towers River Rafting
See Fisher Towers on a magic carpet of water: An accessible rafting trip for people of all abilities.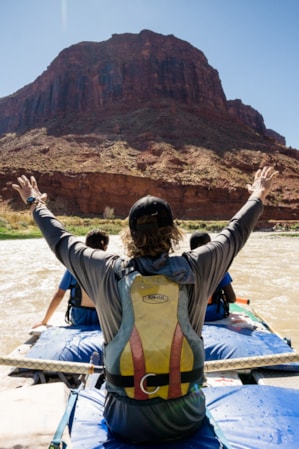 Colorado River guides will tell you that the Fisher Towers stretch of water near Moab is the perfect one-day trip for beginners and families. This scenic, family-friendly river is just right for a fun, splashy day with a variety of class II and III rapids thrown in for a bit of adrenalin to go along with the serenity.
For me, it was so much more.
On this day, the Colorado River revealed Mother Nature's finest work and human nature's finest moments.
My trip was an accessible river float with the National Ability Center (NAC), for adventurers with disabilities. My challenge is a spinal cord injury from a broken neck. Initially paralyzed from the neck down, I eventually regained use of my arms and legs. But advancing age has significantly slowed me down. I'm still walking, but with great difficulty, using trekking poles for balance.
Regardless, I'm still out there enjoying the great outdoors, and with the help of the NAC, still running rivers as I did in my younger days. Mother Nature has been my great healer, both physically and emotionally.
Two boats, ten people, one great river.
Our trip began about 20 miles upstream from Moab along state Route 128, the road to the Fisher Towers trailhead. We hit the water at about 10 a.m., just as the September sun was warming those iconic red rock spires just a gaze away to our north.
The group consisted of me, my wife Jayne, Dave and Sue Frey and the Everett family — Van, his wife Laurie and their three teen-age sons, Alma, Brandon and Jacob. Each boy is living with a unique developmental challenge.
Dave and Sue, from nearby Castle Valley, are NAC volunteers who also operate a nonprofit called Adventure Vet for wounded combat veterans. Adventure Vet provides outdoor adventure activities like motorcycle and ATV trips, recreational therapy, vocational training and wellness programs to assist wounded and amputee combat veterans.
Our river guides were Nicki and Josh, who turned out to be two of the finest young people I've ever encountered. More about them later.
There were two 18-foot rubber rafts in our flotilla, along with two "duckies" — inflatable two-person kayaks for a bit of extra fun.
The weather was calm, sunny and 75 degrees as we pushed off. It would eventually reach 92 degrees, just right for splashy rapids and water gun fights.
"I'm still out there enjoying the great outdoors, and with the help of the National Ability Center, still running rivers as I did in my younger days. Mother Nature has been my great healer, both physically and emotionally."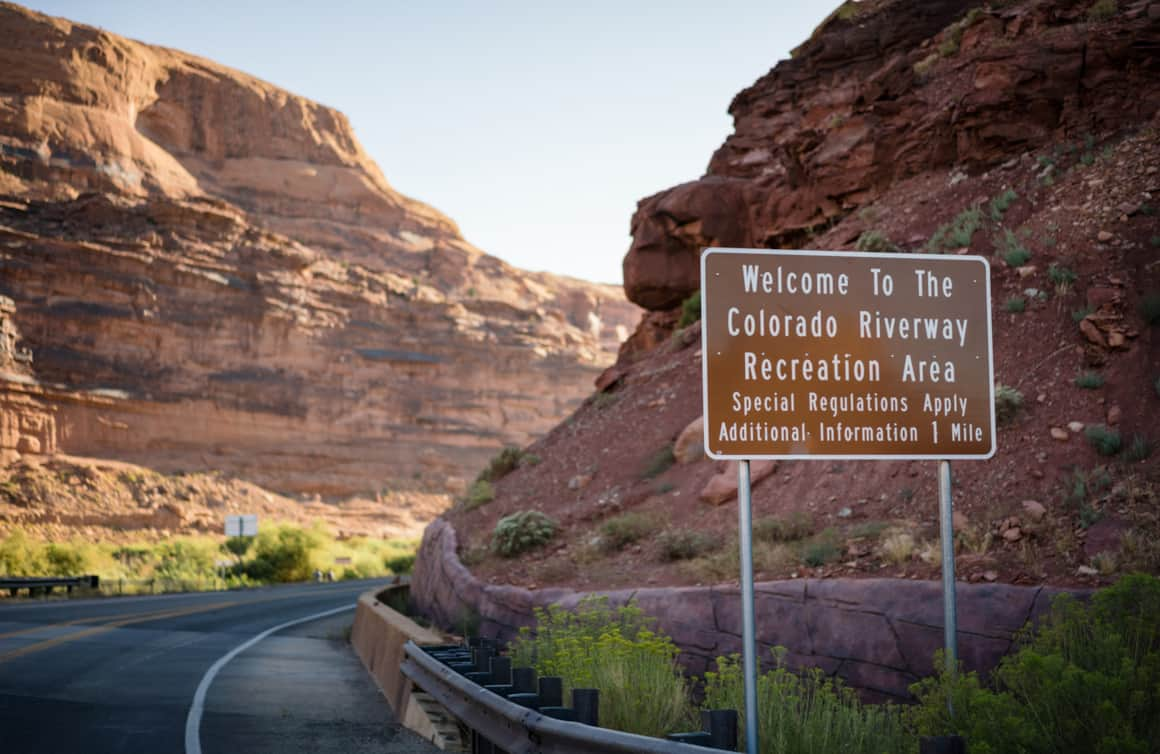 River guides as compassionate as they are skilled.
What makes this river trip "accessible"? Primarily the knowledge, skills and compassion of our river guides and boat captains, Nicki and Josh. They are trained to understand the needs of those of us with disabilities. And they know just how to accommodate them. The only adaptive equipment in use on this trip was a specially mounted chair to accommodate my fused back and weakened core. It looked like a plastic throne mounted near the front of the boat.
Instead of adaptive equipment, the enjoyment and safety of those of us with disabilities fell upon the capable shoulders of our young guides. I've never been exposed to such a genuine outpouring of patience, support and true compassion. Theirs was not just professional courtesy, but true soul-deep caring that was palpable.
My first taste of this caring came while boarding our inflatable raft. With my total lack of hip flexor muscles and freakishly long legs, getting me on board was akin to rolling a beached whale into the boat. I rolled, wife Jayne lifted my legs and guide Nicki supported my back, all the while smiling and making conversation. No big deal. Except to me.
A magic carpet of water.
Finally, we were on the water. To a person with mobility issues, water is magical. Not only does it make you nearly weightless when you're floating in it, but when combined with gravity, as in a river's journey downstream, it truly becomes a magic carpet that carries you away.
In this case, we were carried into the heart of Utah's red rock country, surrounded by towering rock walls, spires and sandy beaches.
Our late season trip had turned the six rapids we encountered into bouncy but relatively tame versions of the early season people-drenching breakers seen in most whitewater videos. Nonetheless, there were grins, hooting and hollering with each rapid. And lest we finish the trip too dry, there were water guns abundant with boat-to-boat water wars aplenty.
Our Mediterranean style lunch was served in the welcome shade of a covered pavilion and featured a free aerial show starring a large hawk circling an adjacent red rock pillar. First, we had to hike up a short but rocky incline, which to me felt like Mt. Everest. Once again, river guide Nicki was right there, with encouragement and hands-on assistance ready. I made it unaided, though it was slow going.
"Finally, we were on the water. To a person with mobility issues, water is magical."
One day on the water. Countless memories forever.
Back on the water, the remainder of our trip was spent dodging water gun blasts from the Everett boys in the other boat. Each torrent of cold water in the face would be accompanied by loud peals of laughter and hoorahs. As the recipient of numerous shots of water to my face, I didn't notice the heat from the blazing afternoon sun until we were off the river.
River trips are a unique blend of sightseeing, serenity, adrenalin, laughter, and reflection. Mother Nature provides the setting. Human nature does the rest. Strangers become friends. Families become closer. With each passing mile, stress fades and memories become more vivid.
I have been river rafting before but the emotions I felt this time were more powerful than I could have anticipated. Things I once took for granted — the cool morning air, the rushing water, the red rock walls — flooded my senses. It was a privilege to be here. The amazing people I met will be friends forever.
I'm looking forward to my next river trip, which will be an overnight adventure, at least. As I remember from previous trips, the only thing better than a day on the river is the night under the stars that follows. It's the kind of star power that only Mother Nature can deliver.
See a list of what to wear on a river rafting trip.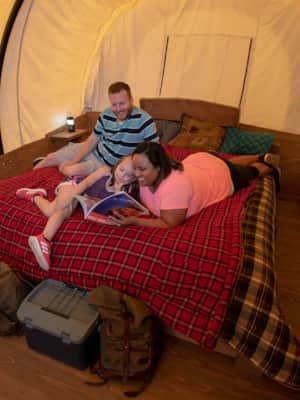 Utah's Scenery Offers A Backdrop for Inclusive Family Camping
While Utah is known for its amazing outdoors, it also has resources that ensure that families and individuals of all abilities can access these places.