Western Red Cliffs and Red Mountain
Trail Guide
Difficulty: Varies from very easy to difficult
Distance and elevation gain:
Red Mountain Overlook: 4.8 miles round trip; 400 feet
Chuckwalla: Varies by loop
Hell Hole: 3.6 miles round trip; 400 feet
Trail type: Slickrock, dirt and rocky paths, with occasional scrambling on steeper sections of Red Mountain
Multi-use: Hiking, trail running, horseback riding and mountain biking
Dogs: Allowed on leash on most trails
Fees: None
Seasonality: Anytime but the height of summer
Bathroom: Available at many trailheads. Consult park map.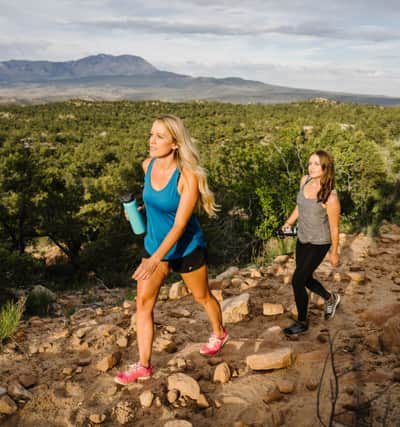 Overview
One of the most classic (yet uncrowded) hikes here is the Red Mountain Trail's Snow Canyon Overlook. Just getting to the trailhead is a scenic drive, passing through Snow Canyon State Park along the way. One bonus: This trailhead sits at a higher elevation than most, which pays off with slightly cooler temps.
The Snow Canyon hike ascends along a steady incline and winds through serene desert junipers on a rock-studded path that eventually gives way to sand. Take a right at the fork for a full 12-mile trail (which is not for the faint of heart) or veer left to arrive at the jaw-dropping Snow Canyon Overlook, which offers sweeping vistas of Snow Canyon State Park, a bonanza of multi-colored rocks and determined desert wildlife.
Just five minutes outside of St. George, you can hike the Chuckwalla Trail, a mellow but extremely versatile trail that is part of an interconnected network of loops. Its terrain is the traditional St. George style with red rock sandstone and soft red sand dunes. There's a popular climbing wall soon after leaving the trailhead, and a bit further down you'll have the option to ramble down the Turtle Wall Trail and the Paradise Rim Trail, both of which connect with Chuckwalla. The area is well known by hikers, climbers, dog-walkers, and mountain bikers, so don't expect to find much solitude on this hike.
Another popular trail in this part of Red Mountain is called Hell Hole, which sounds unfriendly but is terrifically pleasant. Departing from the Kayenta area this trail wanders a sandy desert wash for two miles. Stout redrock bluffs surround you as you slowly work your way up to a shady little canyon. The canyon at the top of the trail is idyllic — it holds little pools of water from any recent rainstorm and is home to clusters of happy green plants enjoying the shade and moisture. This hike is exquisite, although kiddos and those sensitive to the sun's strength and heat might find it arduous.
Part of the amazing nature of this desert reserve is how near it is to St. George, Ivins and Kayenta. The trails are a snap to get to, so you can spend more time hiking and enjoying the incredible terrain. Of course, if you're new to the desert, err on the safe side in all things. A mellow desert day can quickly get dangerous if something unexpected happens.
Keep the following tips to in mind while enjoying your hike:
Be cautious around wildlife.
Bring extra layers.
Overdo it on water.
Plan your hike around the cooler times of day.
Always be aware of the weather forecast: a rainstorm can turn a slot canyon into a trap, a dry wash into a river, and a dirt road into a mud pit.
Be careful.
Arm yourself with a detailed map.
Have a wonderful, awe-inspiring time exploring these Western and Red Mountain trails.
Pro Tip
Include Beck Hill Trail as a part of your Chuckwalla loop for your best chance to see a Mohave desert tortoise. When you are hiking Hell Hole, be sure to have breakfast or lunch at one of the many eateries in the artists' village, Kayenta.
Find It
Nearest Destination
All within 5-20 minutes of St. George
Where to Park
Designated trailhead parking at each
Trailhead GPS Coordinates
Red Mountain: 37.16784, -113.39163
Chuckwalla: 37.13823 -113.60475
Hell Hole: 37.11376, -113.41482
Originally written by RootsRated for Utah Office of Tourism.