U.S. Federal Shutdown Information
All of Utah's Mighty 5 national parks will remain open.
Learn more.
Go With a Guide
Within Monument Valley Navajo Tribal Park, there are several travel restrictions in place, so backcountry and off-road travel around this attraction is prohibited unless you're with a licensed Navajo guide. One of the most reputable and well-established guide and trekking companies in the park, Navajo Spirit Tours, offers a number of experiences for you to choose from.

Going out for a jeep tour is one thing, and it's a great experience, but to go out on a Monument Valley tour with a Navajo guide who truly understands the ancient drawings of their ancestors, and the lore of the land is something special. Furthermore, Navajo Spirit Tours sets itself apart by ending their tours with performances in The Big Hogan, a natural amphitheater. For the Navajo, music is an integral part of their culture.

The hallmark tour is the 2.5-hour Monument Valley main loop, but this shares the road with the only self-guided loop where visitors can travel in their own vehicles. If you can plan extra time, you can explore a little further and catch some great photo opportunities. A trip to Mystery Valley is sure to mesmerize adventurers, because it offers some of the most gorgeously rugged landscapes in the area. When you trek to Teardrop Arch, you'll be walking in the footsteps of the ancients, and the staggering Hunt's Mesa is one of the most remote places you might ever visit.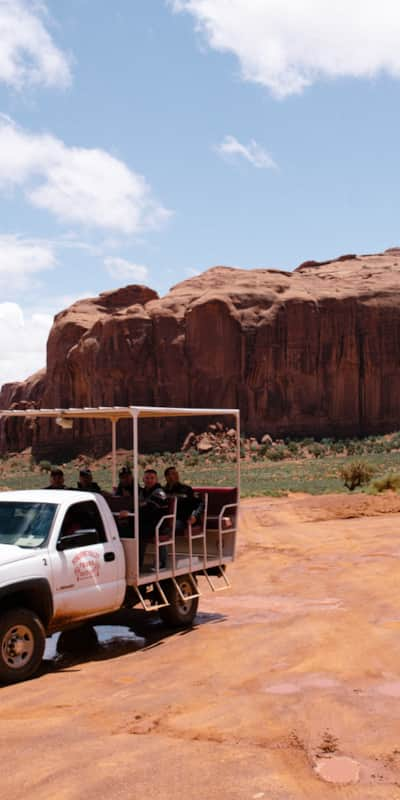 Other destinations include John Ford's point, the Three Sisters and craft demonstrations inside hogans, where expert weavers demonstrate handmade rugs with hand-dyed wool and other traditional crafts. If authenticity matters, you'll want to carry cash.
There are several itineraries to choose from, so visit the Navajo Spirit Tours website to find helpful information about each offering. In other words, there's no reason to shortchange your visit to Monument Valley. A half-day gets you a little deeper. A full day is sure to send you home with an enduring appreciation for this place, both for its present residents and for the people who inhabited it centuries ago. The experience might even change the way you regard your own home and way of living.

All of the tours typically involve driving in a canopied jeep along rugged roads to your remote destination. There are plenty of opportunities to stop and stretch your legs and, more importantly, take some photos. Your Navajo guide will describe the history of the land and its people, along with pertinent geological information. You'll stop for short hikes that are generally accessible for all, and as mentioned above, the tours end with a magical musical performance.
Plan Your Trip
Tourists come from around the world to see Monument Valley, one of the most-visited attractions in the West. But when you head out with Navajo Spirit Tours, which has been in operation since 2007, you can separate yourself from the tour groups. As you venture around the 92,000-acre tribal park, you will begin to understand why the Navajo consider it to be a living landscape.

The best and most comfortable time to visit Monument Valley is March through early June and September through October. The summer season, due to the excessive heat and lack of shade, can be really hot and is not recommended, especially if you have kids.

The entrance fee into the Monument Valley Navajo Tribal Park is $20 per vehicle up to four people, with an additional cost of $6 per person beyond the first four.
Navajo Spirit Tours
Contact Navajo Spirit Tours on their site via email or by calling (435) 727-3403. Their office is open Monday through Friday from 9 a.m. to 6 p.m., and Saturday and Sunday from 10am-5pm. Their office is even open on U.S. holidays. Fees for each Navajo Spirit Tours excursion vary. Most Monument Valley tour departure times are 9 a.m. or 1 p.m., but there may be additional times offered if you check ahead of time. It is highly recommended you bring sunscreen, bottled water and a snack. Arrive at Lookout Point at The View Hotel within the park 15 minutes before departure.

GPS Coordinates: 36.982297, -110.111726