U.S. Federal Shutdown Information
All of Utah's Mighty 5 national parks will remain open.
Learn more.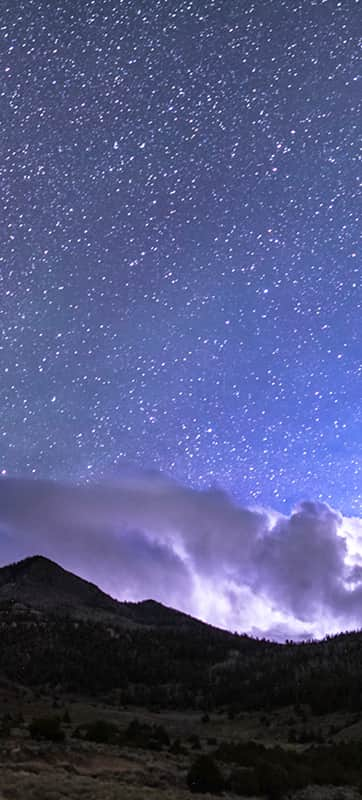 What Makes it Great
Saddled between the well-known and highly-visited Fish Lake to the north and Boulder Mountain to the south, Thousand Lakes doesn't see much foot traffic. As you explore remote lakes and stand in awe surrounded by aspens, you'll see nary another soul. Plus, at 7,000 to 10,000 feet above sea level, it's a cool respite from the oppressive desert heat below.

Feel free to wander along the Great Western Trail, which runs north to south from Canada to Mexico. It meanders along the mountain for a lovely hike. Or take on two-track roads, such as #209, to remote high-elevation lakes, like Snow Lake and Deep Creek Lake. A number of ATV and OHV travelers enjoy these two-tracks as well.
What You'll Remember
The view from the Deep Creek Desert overlook is simply stunning. From your vantage point surrounded by pine trees, you can see for miles and miles into Capitol Reef National Park while at the same time noting the remarkable contrast between your forest perch and the desert below.

When you get back to camp — and when you get home — you'll be bragging about the sheer number of fish that you caught in any of the lakes. You aren't likely to catch a lunker, but it sure is fun to reel in unlimited amounts of trout.
Who is Going to Love It
Seekers of solitude and fishermen who like to bag a bevy of trout without even really trying.
GPS Coordinates, Parking and Regulations
GPS Coordinates
(38.4169178,-111.5143649)

There are activities year-round on Thousand Lake Mountain. In the summer, hikers and ATVers enjoy the trails, while fishermen enjoy the bounty. Often there are powerful summer thunderstorms in the afternoon, so plan accordingly. During the wintertime, there's tons of cross-country skiing to be had. Dogs are welcome.

Scattered around the mountain are primitive campsites, however there is one developed campground, Elk Horn, with a pit toilet, but no running water.

There are no fees required or permits needed to enter Thousand Lake Mountain. Check the Utah Division of Wildlife Management website for information about fishing.