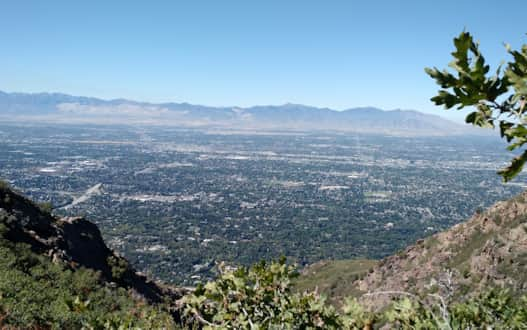 Trail Guide
Difficulty: Very strenuous
Distance and elevation gain: 6.6 miles, 4,190 feet
Trail type: Singletrack
Trail uses: Hiking
Dogs: Allowed
Fees: None
Seasonality: Year round
Bathroom: There is a pit toilet at the beginning of the trail.
Pro Tip: Reward your exertions with a famous garlic burger at the Cotton Bottom Inn, a respectable dive bar a short drive from the trailhead at 6200 S. Holladay Boulevard, Holladay, Utah 84121.
If Salt Lake City hikers were all in a college fraternity, Mount Olympus would be considered a hazing ritual. This hike is no joke — a quad-wrenching climb of nearly 4,800 feet in elevation over 3.3 miles. However, like all things involving peer pressure, you may not be considered a real Salt Lake hiker until you've stood atop Mount Olympus and gazed down imperiously on the valley below (after you've caught your breath and maybe thrown up).
OK. OK. Yes. The hike to the top of Mount Olympus is hard — even the name, with its allusion to the Greek Pantheon, is daunting, right? Although it isn't the largest peak in the Wasatch range it is one of the most prominent and thus climbing up to its tippy top earns you some pretty serious "because it's there" bragging rights. And, honestly, if you take it slow and time your ascent for a cool time of year and day, it is not impossible or even that bad. "Slow and steady" wins the race is a helpful phrase to repeat to yourself as you're scaling the heights of Olympus. Bottom line, this is easily one of the most rewarding hikes near Salt Lake City's urban center with its commanding views of the valley and accompanying sense of accomplishment.
Now that we've convinced you to try it, the Mount Olympus trailhead is located on Wasatch Boulevard and things start out, literally, with a bunch of very tall stairs. You might as well settle in because this continues for a while. There are some breaks as the trail hits each new ridgeline and meanders back into the valley below the peak, which is one of the trail's highlights. Gladed forests and (in spring) babbling creeks are there to be enjoyed. You may consider stopping here, enjoying a small picnic and calling it a day because, once you start climbing the actual peak, it's on. The slog to the top is as advertised and the final 600 feet to the summit also includes sheer drop offs and is not for the faint of heart. This is a mountain peak after all, so keep your wits about you and use caution as you make the final scramble.
The good news is once you've done Olympus there's no need to do it again but you might find it calling you again and again, a siren song that only real Salt Lakers can hear.
Find It
Nearest destination: The entrances to Big and Little Cottonwood Canyons
Trailhead parking: 5789 Wasatch Blvd, Holladay, Utah, 84121
Trailhead GPS coordinates: 40.6518874, -111.8062755
Contributed by Jeremy Pugh