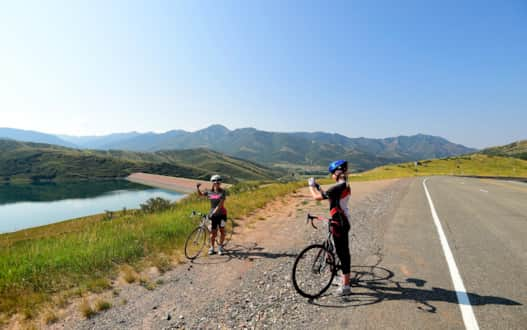 Trail Guide
Difficulty: Moderate to strenuous
Road Specs
Distance: 8 miles up, 8 miles down
Elevation gain: 1,000 feet
Trail Specs
Distance: 4.8 miles, roundtrip
Elevation gain: 1,150 feet
Trail type: Singletrack hiking, out and back
Dogs: Allowed
Seasonality: Ideally hiked in spring through fall, this hike is also accessible year-round. In winter, traction assistance (Yak-Trax, Ice Trekkers), trekking poles with powder baskets and and/or snowshoes are recommended.
Fees: None
Multi-use: Hiking, trail running
Bathroom: None near trailhead. Closest restrooms are at Ruth's Diner or East Canyon Reservoir.
Pro Tip: Ambitious cyclists can continue over Little Mountain to summit Big Mountain, adding an additional 1,600 feet of elevation gain over 7 miles (one-way). The return makes the reward at Ruth's Diner even greater.
Emigration Canyon is a key location in Utah history. It was the canyon the Mormon settlers descended to finally arrive in the Salt Lake Valley on July 24, 1847. A state park at the canyon's mouth marks the spot where Early LDS leader Brigham Young famously intoned "This is the Place," announcing to his followers that their emigration across the great plains was at an end.
Minutes from downtown Salt Lake, Emigration Canyon is one of the most popular canyon rides in the area. There is less car traffic and lower speed limits in this canyon than the better known Big Cottonwood Canyon, and it has a bit more of a shoulder than Little Cottonwood Canyon (as well as a gentler grade). The accessibility of this ride from downtown Salt Lake can only be beat out by City Creek Canyon.
There are a few variations of this ride which will suit just about any ability level (though it's not recommended for families due to the narrow and at times, non-existent shoulder).
Starting at Utah's Hogle Zoo, Emigration Canyon begins a gradual 8-mile, 1000-foot climb to the top of Little Mountain. For new but driven cyclists, this is a perfect challenge. The last mile kicks up a bit, but is short enough to dig deep and press to the top.
Once at the top, you'll have great views of Salt Lake Valley to the west and of Little Dell Reservoir to the east. If you don't have a ton of time to ride, but want to experience something outside of Salt Lake, this is it! Sunday mornings will be the quietest as far as car traffic is concerned.
While lower speed limits and moderate traffic make it a popular cycling destination, hikers have a destination too. Although there are many unofficial trails spider-webbing around the home sites dotting the hills and canyon sides, there are only a few designated paths, making the Miner's Trail an excellent way to explore this famed canyon.
From the Salt Lake Valley, the road to the trailhead cruises along Emigration Creek and passes by a famous SLC food destination, Ruth's Diner known for its creekside patio and super tall breakfast biscuits with homemade jam. Undoubtedly, you'll also pass many Salt Lake area road bikers who enjoy the vigorous ride up to Little Mountain Summit, which overlooks neighboring Parley's Canyon, so keep a careful eye out. Alternatively, you can access the top of the canyon by the less scenic drive up I-80.
You'll find the trailhead by staying left at the fork that leads to Little Mountain and heading to a pull out just past the Pinecrest Inn, a still-grand but now-closed hotel. (It's for sale if you have the means.)
The hike starts off innocently enough, winding gently along the lower ridgeline and periodically crossing a small tributary to Emigration Creek. As the trail enters a narrow draw, you'll cross the small creek one more time and come into an area with large boulders and fallen rock. Take a moment to explore the rocks and you'll find a closed off entrance to a mine that gives this trail its name.
From here, it gets steep. You'll climb up through riparian meadows (keep an eye out for moose) in a straight line right up the canyon wall. Take your time as this section of the trail is unrelenting until you reach the saddle. Your destination on the ridge offers views back into Emigration Canyon down into the neighboring Red Butte Canyon and the Salt Lake Valley. Although there are trails that go into Red Butte, much of that canyon is closed to hiking. Best just to admire the view and head back down — after all, Ruth's Dinner is just a few miles down the road and you've earned one of those famous "mile high" biscuits.
Find It
Nearest destinations: Little Mountain Summit, East Canyon Reservoir, Ruth's Diner
Road Ride Parking: Available
Road Ride Beginning Coordinates: 40.7500598, -111.8105463
Miner's Trailhead parking: Available
Miner's Trailhead GPS coordinates: 40.807663, -111.723020
From Interstate 80, exit at the East Canyon off ramp. Take a left and follow Highway 65 about three miles. Turn left and head up East Canyon until you wind around to Emigration Canyon. At the Emigration Canyon intersection, take a right into the residential area and drive about two miles until you reach a pull out on the left side of the road.
Contributed by Jeremy Pugh