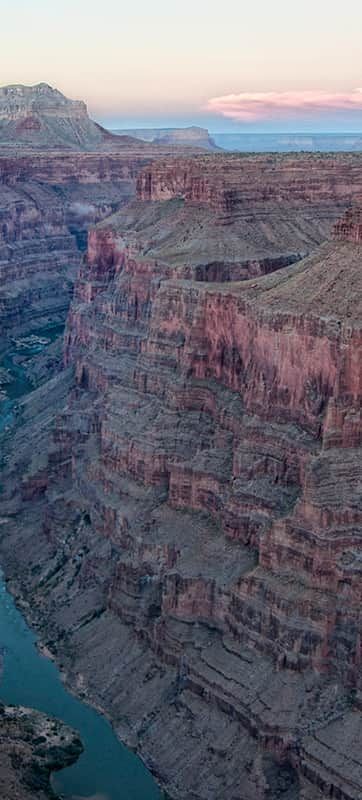 North Rim Grand Canyon National Park
You can camp or stay overnight at one of the lodges on the North Rim, just spend the day hiking around the top of the canyon, or venture down into the canyon. These hikes can be as casual as a walk on the flat, half-mile Bright Angel Point Trail, or a longer and more strenuous adventure down the
North Kaibab Trail
. Mule rides are also offered from mid-April through mid-October, and they range from an hour to half-day excursions.
If you prefer a driving tour, there is a route along the North Rim that takes you to three scenic overlooks: Bright Angel Point, Imperial Point, and Cape Royal, all of which offer breathtaking views. In addition to those major sights, there are several scenic pullouts that can easily turn your tour into a half-day journey. If possible, plan your drive to see either sunrise or sunset at the highest point of the North Rim, the 8,803-feet Point Imperial that towers over the eastern end of the Grand Canyon. Watching the changing desert hues during the golden hour is something you won't soon forget. Another great time to visit the North Rim is during a full moon.
For an even more relaxing trip, check out the world class view from the patio of the Grand Canyon Lodge on the North Rim. Built in the late 1920s, this rustic lodge offers hotel rooms and cabins as well as a restaurant, saloon, deli, coffee shop, and gift shop. The restaurant has something for everyone, with a 1930s themed menu, along with free range poultry and all-natural ingredients. The Coffee Shop and Roughrider Saloon are great options for a hot beverage and freshly baked goods first thing in the morning. You can then stop by the Deli in the Pine to grab pre-packaged salads and sandwiches to take with your for the day.
An escape to the North Rim of the Grand Canyon offers you an opportunity to truly get away and experience this natural wonder.
GPS Coordinates: 36.2097538, -112.05997809999997