In Stunning Technicolor — Also Stunning in Black and White
Surrounded by towering Navajo sandstone cliffs and vistas of sagebrush, the nickname Little Hollywood comes into clear focus — especially for fans of Westerns. This dramatic scenery (in color or black and white) has lured filmmakers to Kanab for more than 90 years. Abandoned film sets near town have become tourist attractions. The buildings all over town have plenty of movie posters and autographed photos to support Kanab's enduring title, "Little Hollywood."
By the early 1930s, locals rallied around the industry. Three brothers established Parry Lodge as a base camp for Hollywood productions filming in the Kanab area — and visitors can stay at Parry's today. Not only is the lodge on the National Register of Historic Places, it went on to welcome names like John Wayne, James Garner, Gregory Peck, Maureen O'Hara, Ronald Reagan, Sammy Davis Jr. and many more stars from Hollywood's Golden Age.
By the time director William Wellman came to Kane County to film Buffalo Bill in the 1940s, Kanab was an established destination "backlot" for Hollywood. Wellman was floored by its people and their readiness to appear as stuntmen and extras in his film. Thus, he dubbed the area "a Little Hollywood all its own." Or so the legend goes.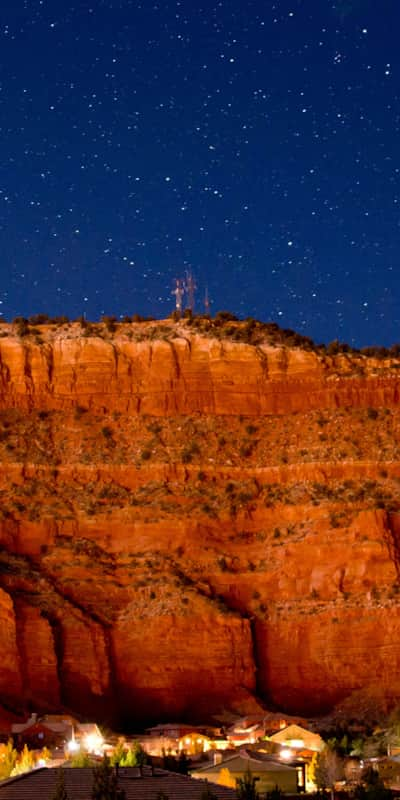 Due to the popularity cowboy movies and Westerns enjoyed during the turn of the 20th century, and Hollywood directors' desires to find new set locations, more than 100 motion pictures have been shot in Kane County since the 1920s. Remnants of movie sets can be found up in Johnson Canyon and Paria Canyon, both of which you can tour on your own.
Quiet on the Set
Of course, any film fan knows landscapes are only part of the picture. A lot of the magic happens on the set. Get the full story when you head to the Little Hollywood Museum in Kanab. This free, nonprofit museum is dedicated to preserving movie sets from Kanab's glory days of film production.
A bit of a quirky, non-traditional type of stop on many visitors' agendas, the Little Hollywood Museum beckons those curious enough to follow the signs upon entering Kanab city limits. It's hard not to. The Kanab area is filled with shades of the American West, and part of getting to know this place is better is getting acquainted with its history and heritage outside the stunning natural landscapes.

Once you walk through the gift shop — there is also a portrait studio and chuckwagon restaurant in the building — you head to the back exit where the sets are located. There, take a self-guided tour of sets from "The Outlaw Josey Wales," "Sergeants 3," "Desperate Hours," "One Little Indian," "Black Bar," a well-preserved set from a Kenny Loggins music video and more. Aside from the sets, which are the most attractive and curious part of the museum, there are hundreds of photographs and props.
Movie junkies, lovers of Westerns, and families looking for kid-friendly activities to mix up the vacation: We've found your next stop.
To get started planning, see our inspirational Base Camp Kanab itinerary.
Visit the Little Hollywood Museum
GPS Coordinates: (37.047684, -112.534394). Park in the main parking lot in front. The museum is free and open year-round. Hours are 9 a.m. to 5 p.m. The museum is located outside, so it's not much of an air-conditioned respite from the summer heat, but it's worth stopping in as you can work it in your schedule, perhaps before eating dinner in Kanab or to start your day.