What Makes it Great
On any given day, the sanctuary is home to about 1,700 rescue animals. Most of these are dogs and cats, but there are all types of animals, including horses, burros, birds, rabbits, goats, pigs, and an assortment of other creatures. These furry (and not furry, too) friends come from all over the country, mostly from shelters that don't have the dedicated resources to socialize, train, and heal them to the point where they will be welcomed into someone's loving home.

Tours of Best Friends and visits with the animals are available daily, year-round. The guided tour, which starts at the Welcome Center, is free and takes approximately an hour and a half; there are four throughout the day. More than 25,000 visitors travel to this Utah animal sanctuary to tour and volunteer each year. It's an experience most will never forget.

The general tour is informational and takes you through the scenic grounds where Best Friends operates. You will poke into a cat and dog shelter (it is important to socialize these animals so Best Friends rotates the visitation schedule). There are a number of ways to volunteer, including taking an animal for a stroll on one of the numerous trails around the shelters. There are hikes, vistas, and red rock as far as you can see here.

If that's not enough, enjoy a $5 all-you-can-eat vegan buffet on the grounds every lunch hour; it's delicious.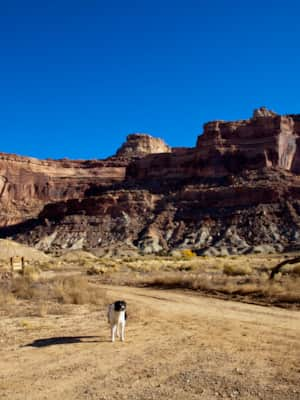 Dog-Friendly Utah: The Road to Mighty
Want to bring your furry friend on your next vacation? Utah is home to several great dog-friendly national parks and other fun destinations. Check it out and plan your trip!