Capitol Reef National Park Logistics
Location: Capitol Reef National Park is located in south-central Utah. The park can be reached from I-70 via S.R. 24.
Fees and Permits: Many hikes along S.R. 24 do not require a fee. Entrance passes to the scenic drive behind the visitor center cost $15 for vehicles and $7 for individuals (pedestrians and cyclists) for a 7-day period. The Fruita Campground fee is $20 per night. Backcountry camping requires a free permit, available at the visitor center. Canyoneering and climbing also require a permit; the permits are free of charge and require self-registration located at the park's visitor center or on the park's website.
Climate and weather: The park is at a high elevation — 5,000 feet — compared to manyother desert areas in Utah. Spring and autumn are the best seasons. Winters can be cold and snowy. Summers are hot, but not unbearable. Daily summertime highs are usually in the 90s, and shaded routes can be found. Severe thunderstorms occur on July and August afternoons. Watch for lightning.
When to Visit
The park and campgrounds in Capitol Reef National Park are open year-round. The visitor center is open daily (except for some major holidays) from 8:00 a.m. to 4:30 p.m. with extended hours in the summer.
Ripple Rock Nature Center is open on limited days from Memorial Day through Labor Day (check at the visitor center for details).
The Gifford Homestead Store and Museum opens for the season on March 14 (Pi Day) to October 31 (closing date subject to change) and is open daily from 8:00 a.m. to 5:00 p.m. with extended hours in the summer.
Due to the low humidity year-round, there is really no "wrong" season for visiting Capitol Reef National Park; while the frequent thunderstorms of late summer sometimes cause flash floods, they're fun to watch — from a distance. They also provide dramatic skies and some of the best lighting of the year.
Geography and geology: The park preserves the 100-mile Waterpocket Fold, a mammoth buckling of the earth's surface ("waterpocket" refers to the potholes that dot the sandstone and fill with rainwater). The park's name combines the popular term for an uplifted landmass, "reef," with a visual resemblance of the park's many white Navajo Sandstone domes to that of the nation's Capitol Building.
Actually, the Waterpocket Fold was created relatively recently, at about the same time and by the same forces as the entire Colorado Plateau. A mere 65 million years ago (give or take a few millennia), when the uplift of the Colorado Plateau began, rock strata here were bent into a huge broken fold. Wind and water gradually eroded the ancient fold into the landforms and canyon systems we see today.
Sandstone dominates Capitol Reef National Park. Each rock layer tells a story about different environments that spread across ancient lands. Here are the stone remnants of winding Permian-age rivers, mudflats and swamps of the Triassic, the sandy deserts of the Jurassic, and the landlocked seas of the Cretaceous Period. Most of these rock formations date from the Mesozoic Era, the age of dinosaurs, from 230 to 65 million years ago. The dominant formations are Wingate and Navajo sandstones, which respectively form steep cliffs and rounded domes.
GPS coordinates of park visitor center: 38.291452, -111.262037
Where to Stay
Overnight options: There are no restaurants or lodges in Capitol Reef National Park. However, there are numerous lodging options in the surrounding towns and nearby areas. Visit the Wayne County Office of Tourism website for a complete rundown of lodging options.
Capitol Reef National Park has three campgrounds for those who want to experience the park in an intimate setting and be around to catch the early morning and late evening light, when photography is often best.
The only developed campground — and a very nice one at that — is the Fruita Campground, 1 mile south of the visitor center and Scenic Byway 24. Visitors will be able to book reservations for campsites at the Fruita campground at recreation.gov beginning February 1, 2018. Reservation is recommended for camping dates between March–October. The fee campground has seventy-one sites available on a first-come, first-served basis. Arrive in the morning to obtain a site. Sites are shaded and grassy with tables and fire grills, water, and restrooms are available; however, there are no individual water, sewage, or electrical hook-ups. Fee is $20 per night per site. There is a RV dump and potable water fill station. The campground is blanketed with grass and lovely trees that provide shade come summer. Nearby you'll find Fruita's historic orchards, harvested for almost a century. Fruit is available throughout most of the summer and fall. When you're done gorging on fruit, you'll find a multitude of trails to explore and a lovely scenic drive; rock climbing is popular as well. GPS: 38.282264, -111.246692.
Cathedral Valley Campground is a fine option for primitive camping. Spacious sites sit among a partially open forest of pinyon pine and juniper on the flanks of Thousand Lake Mountain. This primitive, bring-your-own-water campground is suitable for tenters. Hikers with map and compass in hand can explore to their hearts' content, while photographers will find an endless array of images to make. The campground has 6 sites with fire pits, picnic tables, and vault toilets. No hookups, reservations, or fees.
To find the campground from the visitor center, drive east on S.R. 24 for 11.7 miles. Make a left at the small sign onto River Ford Road (also known as Hartnet Road), a dirt road, to a fork at 25.4 miles. Straight (west) would lead to Thousand Lake Mountain; keep right (north) for 0.3 miles to the campground, which is on the left (west). If you'd rather not ford the river, continue east on S.R. 24 for an additional 6.7 miles to Caineville Wash Road; follow it about 29 miles to the campground.
GPS: 38.474671, -111.367581.
Cedar Mesa Campground is another option for primitive camping. Excellent views of Red Canyon and the wide mesas east of Waterfold Mesa are yours from broad Cedar Mesa. Tucked away in a forest of juniper trees, the campground provides access to Red Canyon. This campground has 5 basic sites that are best for truck campers and tents. Fire pits, picnic tables, and a vault toilet are provided. No hookups, reservations, or fees.
To find the campground from the visitor center, drive east on S.R. 24 for 8.9 miles. Make a right, driving Notom-Bullfrog Road (it's paved at first, then turns to dirt and sand) for 21.1 miles. At this point go right (west) on a short spur road leading to the campground. GPS: 38.007359, -111.084637
Primitive campsites and forest campgrounds are found west of the park on Boulder Mountain. Primitive campsites are also found in the desert east of the park. Ask at the visitor center for details. Backcountry camping requires a free permit available at the visitor center.
Nearest groceries. lodging and supplies: The closest services are in Torrey, west of the park, on S.R. 24. Otherwise, 50 miles east in Hanksville.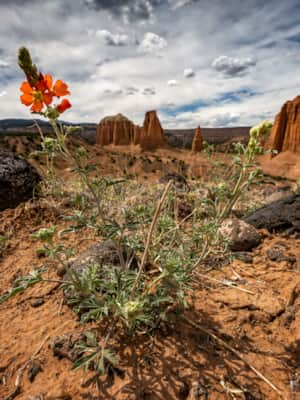 Serenity Found in Torrey and Capitol Reef's Cathedral Valley District
Taking Southern Utah's remote, less-traveled path in Capitol Reef's Cathedral Valley District to nurture your body, mind and spirit.