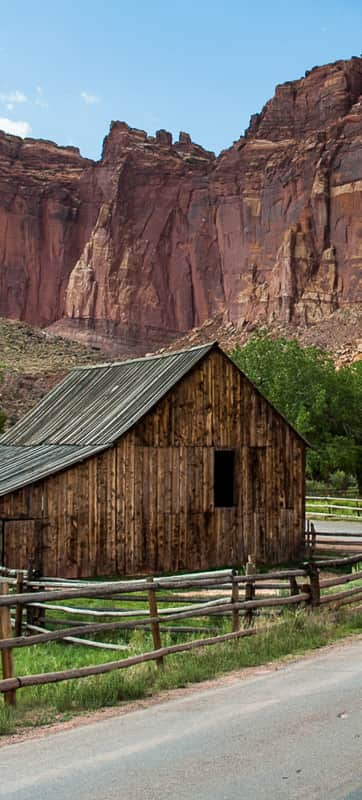 Hundreds of years after the Fremont Culture left the Capitol Reef area, it was discovered by the Mormon pioneers who put down roots in what is now called the Fruita Historic District, located near the park visitor center. The district contains many relics of the area's homesteading past, including a one-room schoolhouse, a blacksmith's shop, and the Gifford family's old home, which has been converted into a museum and store. This is a great place to learn about Capitol Reef's residents of yore, and, yes, to enjoy some fresh apple pie while you're at it.

The Mormons settled here around 1880. They first called their settlement "Junction," but changed the name to "Fruita" in 1902 — fittingly so, because the fruit they grew turned out to be their most important commodity. Over the next several decades, about 10 families lived in Fruita. They grew alfalfa, vegetables, and fruits, including apples, peaches, cherries, and pears, both for themselves and to sell to surrounding communities. Many of these original orchards remain; the flowering trees in the spring are a beautiful sight, and visitors are welcome to harvest and indulge in their bounty come fall.

But life in Fruita was not easy. There was no running water, electricity, or even a tractor until the 1940s. The region was one of the most remote parts of Utah, without reliable roads until after World War II; this often made it difficult for the farmers to to transport their fruits. Harsh winters and isolation meant its residents had to be self-reliant and resourceful. Families would get through the year by canning their fruits and vegetables, smoking their meats, and making everything by hand, from clothes and kitchen supplies to toys.

The schoolhouse, located a short distance from the Gifford Homestead, was the only public building in town. Built in 1896, the small structure served as a community space, Sunday school, and, from November to April (when the children were not needed to help on the farm) a classroom for 8 to 26 students who spanned eight grade levels. Teachers came from afar; they were often young, and most did not stay for more than a year. The school closed down in 1941, forcing Fruita's remaining children to bus to other schools in nearby counties.

The families who lived in Fruita gradually left over the ensuing years. The last private resident, Dewey Gifford, sold his house to the National Park Service and moved away in 1969. Two years later, Capitol Reef was established as a national park. Today the park's visitors can tour Gifford's homestead and barn. Surrounded by the grand brick-red walls of rock, it makes for a scenic place to pick some fruit from the orchard next door, buy freshly baked pie or bread from the store, and settle down for a picnic.
Season and Coordinates
The Gifford Homestead is located 1 mile south of the Capitol Reef visitor center on the Scenic Drive and is open 8-5 daily (possible extended hours in the summer) from March 14 (Pi Day) to October 31 (closing dates may vary).
(435) 425-3791
GPS Coordinates: 38.283736, -111.247401