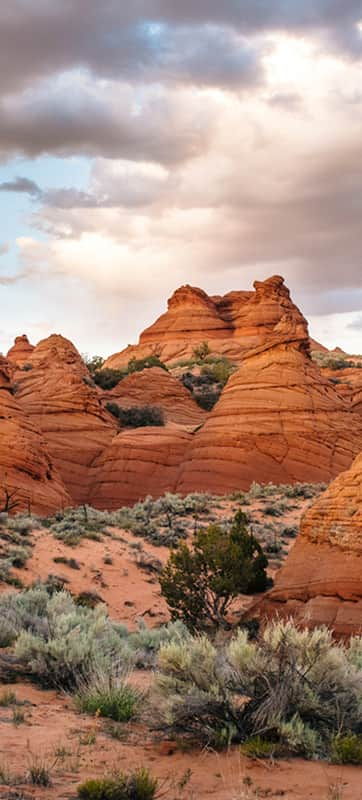 What Makes it Great
Let's face it, it's very challenging to obtain a permit to The Wave in North Coyote Bluffs. But fret not, you can still go to Coyote Buttes South.

Coyote Buttes South is remote and offers access to delicate features. Striped slickrock, painted over time by iron oxide, offers a fantastic array of reds, oranges, and yellows to feast your eyes upon. Walk among thin fins and arches, as well as the area's iconic teepees. Note that there are no established trails. Some well-worn paths have been made by hikers choosing the same route over time, but you are free to roam as you please—and it is encouraged to do so.

A Coyote Buttes South permit provides access to exploration in two areas. The first is the scenic Cottonwood Cove that brings you to the Cottonwood Teepees and other attractions just .5-mile to the west. This area also has a number of free standing wind sculpted erosional statues, including "Turtle Rock", "The Frog," and "Dali Rock."

The second area, Paw Hole, is, as mentioned, the spot to go if you only have time for one of the two areas. The colorful formations here sit on a ridge to the west of House Rock Valley. Because of the ridgeline that runs north-south, you can capture amazing light in your photographs at sunrise or sunset. Upon entering at the trailhead, you'll see the large red rock piles and teepees. You can go through the large corral directly through the teepees, but you will eventually have to cross through barb wire to get to the west side (if you are trying to get pictures at sunset, you will want to be to the west of the formations with the sun at your back). Keep hiking anywhere you please, both around and on top of the rocks. You will see some of the best views and features no more than two miles in, but, really, it's all good.
What You'll Remember
Coyote Buttes is for anyone who has ever read an Edward Abbey book and pined to experience nature in its most pure, unadulterated form. Also, the landscape is for anyone who doesn't mind hiking without a proper hiking trail and letting their sense of exploration guide them. Explorers will take away memories of the glowing piles of red rock teepees at sunset; the lack of human noise or humans, in general; and wandering about freely wherever you'd like and letting the time just fly on by.
GPS Coordinates, Parking and Regulations
GPS Coordinates: (36.967824, -112.011060)

A permit is required for hiking in Coyote Buttes South; fees are $5.00 per person per day. Dogs must be included on the permit, and the fee is $5.00 per dog
A 4WD vehicle with high clearance is a necessity for access. If you are traveling in a passenger vehicle, after turning off the House Rock Rd., drive to the apparent wash and park there. You will be able to hike to the trailhead from here, but it is uphill and through sand.

Permits for day hiking in Coyote Buttes can be obtained from the Bureau of Land Management.