U.S. Federal Shutdown Information
All of Utah's Mighty 5 national parks will remain open.
Learn more.
Fishing Northern Utah's Logan River
A dream stream in many an angler's eyes.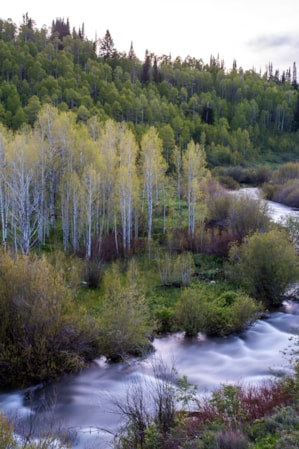 When you think of freestones, you imagine cascading pocket water, quick riffles, eddy and seam lines, and the sound of rushing water. Logan River fits this description perfectly — it's audible far before it comes into sight. The stream is an amalgam of all these attributes. Vast swaths of access, inordinate insect hatches, and a fantastic fly-fishing ambiance for brown, rainbow, cutthroat, and brook trout make this northern Utah stream worth exploring.
The Logan and its tributaries, including The Blacksmith Fork, are dream streams in many fly fishermen's eyes. Big bugs and small water merge, creating a very sight-oriented experience with salmon flies, and green and grey drakes buzzing throughout the river's passage.
Because of these traits, the Logan River region is an incredibly diverse fishery. Starting from the bottom, the Logan's "urban" section from Cutler Reservoir through the three-dam configuration provides a completely different fly-fishing experience than the blue ribbon waters from the third dam to the Idaho border.
The three small impoundments on the lower Logan provide great fishing opportunities for the whole family with plenty of stocked rainbow trout and the potential for hooking a monster brown. The river between the impoundments has large populations of rainbow and brown trout. You should, however, expect company when fishing due to the proximity to Logan.
Most anglers fish with bait in this section, but flies and lures will also work. Classic attractor patterns like the royal wulff, humpy, rainbow warrior, and prince nymph will catch you fish all summer long, but here's a little secret. While the Logan will produce green drakes during their normal timing in May and June, the insects will make a second appearance, with their close cousin the grey drake, in August and September. Don't believe it? Fish it for yourself.
As you move up canyon towards the Logan's headwaters, the dream stream becomes a reality. From the upper dam upstream to Card Canyon Bridge, roughly 3.5 miles, is more heavily fished than upper stretches because of easier access. Brown trout, whitefish, and an occasional cutthroat are the primary catches in this stretch.
The section from Card Canyon to Red Banks Campground is a quality mountain fishing experience. Bear River cutthroat are more common in this part of the river. This stretch is under a special regulation of artificial flies and lures only and a limit of two trout or whitefish combined.
The artificial-only section of the river is hard to fish during runoff but can be productive in the spring with San Juan worms, stone fly nymphs, and bedhead nymphs. As the water clears, simulators, stoneflies, and attractor dry flies work best. As summer progresses, good caddis and mayfly hatches occur. Terrestrial patterns are also a good choice.
Upstream from Red Banks to the Idaho state line, the Logan is a small river with thick vegetation guarding the banks with few clear areas. Brook trout and cutthroat are the predominant fish on the upper stretches of the Logan. This section of the river also has a limit of two trout or whitefish combined.
If fishing slows down midday consider doing some touring and perhaps a hike.
The Wind Cave trail is a 4-mile round trip with a 980-foot elevation hike. It starts on Highway 89 in the canyon across from the Guinavah-Malibu Campground. Another, less strenuous stop, is Ricks Springs. Roughly 15.5 miles up the canyon, in a large cavern is a spring emerging from the mountain. Where the water comes from remains a bit of a mystery. It has been a popular stop in Logan Canyon since people started traveling between Logan and Bear Lake.
There are numerous campgrounds along the river and dispersed camping is allowed in some areas. There are plenty of pullouts for parking along the river. Use caution if walking along the road to access the river as traffic can be heavy.
The region around the Logan River in North Utah is good for fishing – brook, brown, cutthroat, rainbow trout and the occasional white fish. Anglers of any experience are welcome!