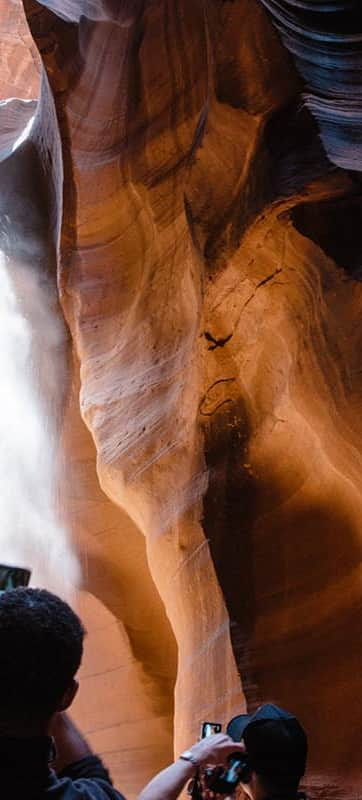 What Makes it Great
This gently carved Navajo sandstone has been shaped by wind and water to form a tight slot canyon. The shapes and curves are fairly unique and often recognizable in photographs. The canyon is approximately 660 feet long — relatively short compared to other Southwest slot canyons — and about 120 feet at its deepest. Zion Canyon, one of two dozen in Zion National Park in southern Utah, may be the most famous slot canyon in the Southwest, but the Upper Antelope may be the most photographed!

The hues of the sandstone are the richest in the early morning and late afternoon, although if you'd like to take in the canyon's famous beams of light, heading in starting around high noon is best — especially during the summer.

The canyon is quite unique, and if you don't mind the crowds and guided tours, it is a must. Additionally, the entrance and entire walkway are flat, making this trail hike accessible for all.
Who is Going to Love It
Rock and canyon lovers; photographers, both professional and amateur; anyone in awe of breathtaking rock and light beams; people who don't mind crowds.
GPS Coordinates, Parking and Regulations
The Navajo Nation has restricted access to this slot canyon. You'll need to pay a fee and hire a guide to visit. Prices fluctuate but generally hover around the $40 mark; this does not include the $8 fee for admittance by the Navajo Parks & Recreation office. It's recommended to book in advance if you'd like to see the light beams, because these highly sought-after slots fill up quickly. Additionally, you can book tours at helpful guide services in Page, Lake Powell or at the entrance to Navajo Nation, east of Page.

Spring to fall are ideal times to tour Upper Antelope Canyon. Utah visitors and residents remind us that summers and weekends can become incredibly busy. Due to the light changing with the seasons, the ideal time to see light beams will fluctuate, but a good gauge would be from 11 a.m.–1 p.m. Dogs are not allowed in Upper Antelope Canyon.
Be sure to add this iconic canyon to your Utah trip itinerary!