Flood Safety
Due to record snowpack and high amounts of spring runoff, please be advised of potential flooding that could impact travel plans.
Learn more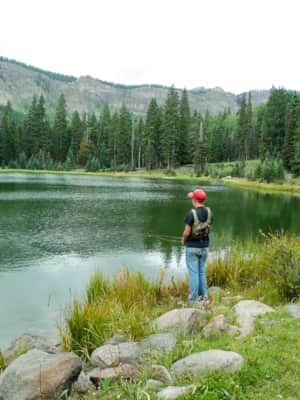 Alpine Fishing Above the Red Rock Landscapes of Southern Utah
Sitting just outside of Capitol Reef National Park, this 11,000-foot peak offers views of the surrounding red canyons and desert-like region. In contrast, Boulder Mountain is heavily forested and home to more than 80 lakes, ponds, and reservoirs. With an average rainfall multiple inches more than the lower regions, the area makes for some surprisingly good fishing.
About the Fish
The mountain's claim to fame is that the state record brook trout — 7 pounds, 8 ounces — was caught in its waters in 1971. On the waters expect to catch:
Tiger Trout
Brook Trout
Colorado River Cutthroat Trout
Arctic Grayling
Access to the Waters
There are a variety of different ways to access the lakes, ponds and reservoirs on Boulder Mountain. Some of the more remote areas require off-road vehicles, and you may need to hike a bit to get to reach them. But, many of the lakes are accessed from the dirt-packed Boulder Top Road, which runs north/south from Highway 24 and starts about 2.5 miles east of Bicknell. Drive past the Perry Egan Hatchery and look for signs indicating Forest Road 154.
For paved road access, take Scenic Byway 12, which runs between Torrey and Boulder, and drive to find some less-out-of-the-way waters. Bonus: It's a stunning drive during the fall.
Planning Resources
Learn more about fishing in Utah