Salt Lake City to Moab
Bring your vivid imagination and taste for exploration on this trip to Moab.
When you think of Moab you may think of hiking the Delicate Arch Trail, gazing over Canyonlands National Park or four wheeling down a slickrock trail. This is Utah's adventure epicenter — a place where world-renowned natural destinations are scattered around a town that's brimming with local charm. Be sure to bring a vivid imagination and taste for exploration along with your hiking shoes, sunscreen and water bottle, because this is not your typical retreat. To that end, this is not your typical weekend road trip itinerary.
Imagine being on a movie set with John Wayne as you ride horseback through familiar movie backdrops, or follow the path of explorer John Wesley Powell as you float down the Colorado. Then switch gears with a heart racing 4x4 tour of Hell's Revenge, or a mountain bike ride on the beloved slickrock trail. Afterwards, with tired legs and an unshakeable smile it's time to head back into town for a bite to eat before gazing upwards into some of the darkest night skies anywhere in the world. Welcome to an idyllic weekend road trip to Moab.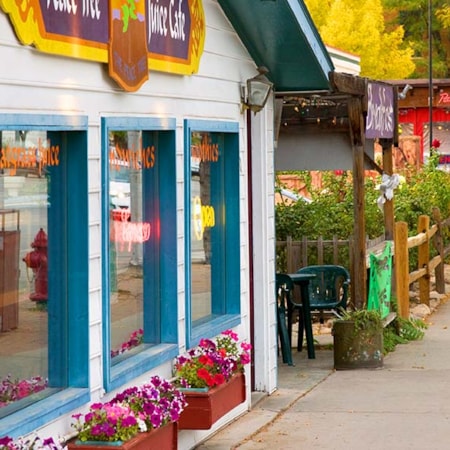 Salt Lake to Moab
234 Miles
It takes about four hours to drive from Salt Lake City to Moab, or flights from Salt Lake City International Airport are available most days and only take about an hour. Depending on when you arrive you may have enough time for a full afternoon in Arches National Park (Read: "The Best Time to Visit Moab"). If not, you may spring for a quick hike on BLM land alongside State Route 128 or Kane Creek. Either way, you'll want to make sure you plan enough time for a lunchtime break in Green River at Ray's Tavern or Tamarisk, which boasts river-side views. As the day winds down, be sure to spend the evening popping into the galleries, gift shops and outfitters that line Main Street for a sense of Moab's charm.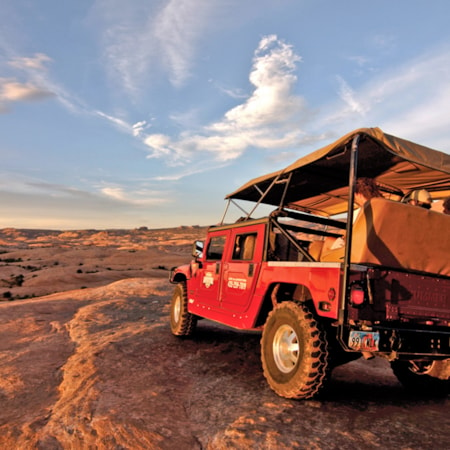 4x4 Tour, Golfing and Kayaking
30 Miles
Well known for its biking and rugged dirt roads, Moab is less recognized for its golf, yet the Moab Golf Club layout is one of the most spectacular anywhere with the rich green grass accented by the backdrop of rugged red cliffs. Start your day off by playing nine holes, or spend some time floating down the Colorado on a kayak or a paddleboard (either of which can be rented in town.) Then, cap your day off with an adrenaline pumping tour of Hell's Revenge with a local guide. Tours are available in the evening, at which time you may be able to watch the sky burst with color as the sun sets behind the red rock horizon.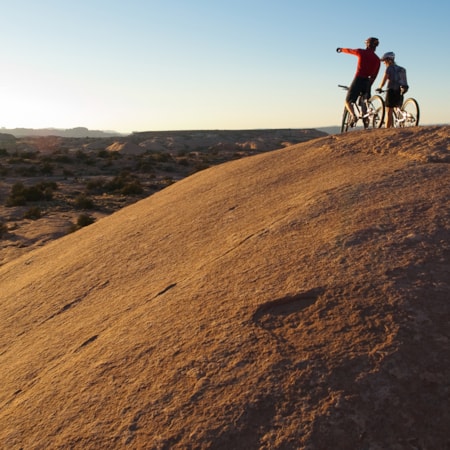 Mountain Biking, Canyonlands and Dark Skies
120 Miles
Day three of your weekend retreat is all about seeing some of Moab's more remote destinations. While heavily trafficked, the 10.5 mile Slickrock Trail leads riders deep into a solitary ocean of rolling slickrock terrain. This is a very strenuous ride, so you might elect to sample the 1.6 mile Slickrock Practice Trail instead, or consult with a local bike shop for a better suited trail. Up next is Canyonlands National Park, the largest national park in Utah. Fully exploring the Canyonlands region calls for a trip all its own, but Gooseberry is an excellent day hike to see the park's dramatic geology. Finally, end your day with stargazing at RedRock Astronomy for a sense of Southern Utah's dark skies.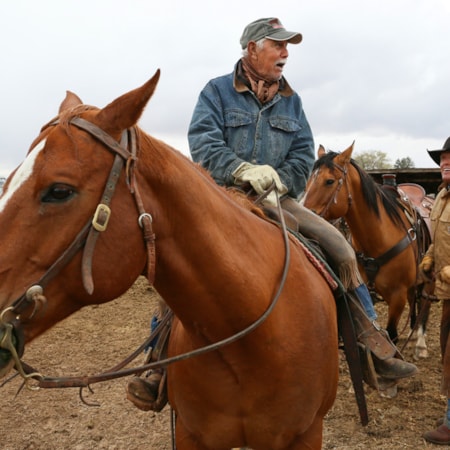 Horseback Riding, Jet Boats and Scenic Drives
60 Miles
As your weekend trip winds down, you may be looking for a relaxing way to ease yourself back into reality. Start your day off at The Moab Movie Museum, then ride through those same movie backdrops on horseback at Red Cliffs Lodge. Or, if you're looking to cool down, a jet boat tour on the Colorado River promises everything from wildlife views to a ground level vantage point of the Goose Neck. Then, once you've packed up your car and you're headed back home, add the scenic La Sal Mountain Loop to your route for a few last unforgettable photo ops.