Monument Valley Navajo Tribal Park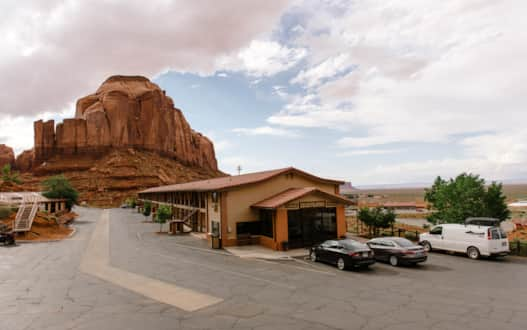 Where to Stay
The nearest town to Monument Valley is Mexican Hat, a short drive to the northeast on U.S. 163. For more lodging and dining options, continue along this same highway for another 20 minutes to reach Bluff. Accommodations are also available in Kayenta, Arizona, south on U.S. 163. Goosenecks State Park (near Mexican Hat) also has a campground.
Gouldings Lodge is another nearby option and the most convenient place to eat inside the park. This lodge is tucked under soaring rimrock cliffs two miles west of the Monument Valley turnoff from U.S. 163 in Utah. Gouldings also has a nice campground that offers RV hookups, a pool and separate cabins. Explore their guided tour opportunities as well.
The View Hotel is the only lodging inside Monument Valley Navajo Tribal Park. Reservations well in advance are a good idea if you want to enjoy the amazing views of Monument Valley from this modern hotel.