Glen Canyon and Lake Powell
Visitor Information
Glen Canyon National Recreation Area is open all year. Operating hours vary by season, check with the National Park Service for current hours. All visitors are required to pay an entrance fee, and a separate boating pass is required for vessel launch. Pets on leash are permitted in most areas of Glen Canyon.
For more information, there are multiple visitor centers that serve the Glen Canyon area. Find the visitor center closest to you:
Climate and Weather
In the summer (June-August), the Glen Canyon area is extremely hot (sometimes exceeding 110 F degrees) and the area offers little, if any, shade in the form of trees. Springtime (March-May) is difficult to predict and can also bring long periods of high winds. Fall weather (September-November) is typically nice and mild — a great season to avoid the heat and the crowds. Winter (December-March) can be chilly, and the temperature sometimes dip below freezing at night. (Read: How to Pack for Winter in Southern Utah)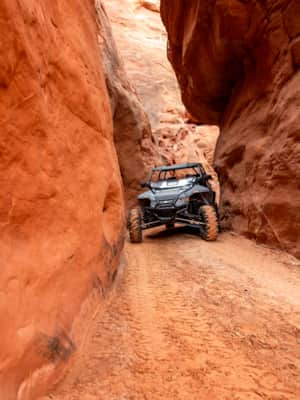 Blazing Sandals in North Lake Powell
It's not unreasonable or out of the ordinary to go UTVing, paddleboarding and canyoneering all in the same day (or weekend) at Lake Powell.