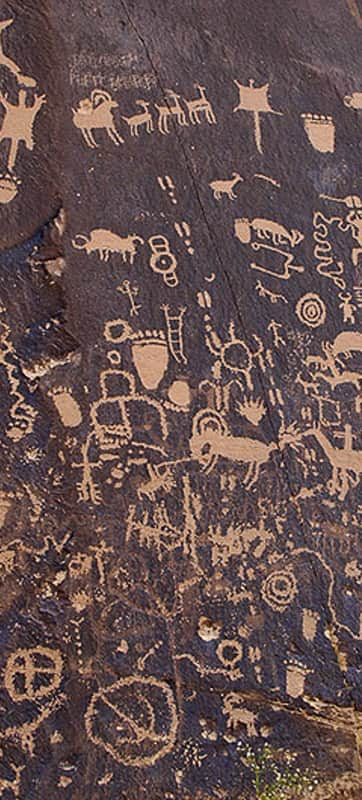 Newspaper Rock & Indian Creek Corridor
What Makes it Great
As one of the largest collections of petroglyphs in the country, Utah's Newspaper Rock State Historic Monument is like a living museum. However, thankfully, you don't have to peer at the pristine rock art through glass at this site.

Peoples from the Fremont, Ute, and Anasazi Native American tribes etched their markings here. It's surmised that the perennial natural spring attracted ancients to this distinct area. There are over 650 rock art designs and include animals, human figures, and various symbols, some thought to be religious in nature. These petroglyphs were produced by pecking through the black desert varnish found on the rock to the lighter rock beneath.

After enjoying the rock art, get back in the car and check out the rest of the 19-mile Indian Creek Scenic Byway. Driving westward, the sharp sandstone cliff walls are mesmerizing. Approximately 12 miles from the red rock canyon of Indian Creek, you'll venture into the Needles District of Canyonlands National Park.
What You'll Remember
Standing at the base of the 200-square-foot rock and trying to decipher what the ancients were trying to communicate; craning your neck to count all of the artwork; sketching and replicating some of the petroglyphs in your own notepad; losing count when you try to see who can count the most antelope; driving the awe-inspiring byway and looking at all of the massive, perfectly-red Wingate sandstone cliffs.
GPS Coordinates, Parking and Regulations
GPS Coordinates:
(37.988325, -109.518501)

There are no fees or permits required to visit Newspaper Rock or to drive the Indian Creek Scenic Byway through Indian Creek National Monument. There are fees to enter Canyonlands National Park. Just across the highway from the petroglyphs there is a picnic area and campground, which is free and is first-come, first-serve.

The area is open year-round, and the best times to visit are March through late-May and September through October. Feel free to bring your dog, but most places require furry friends to remain on-leash.


Travel Advisory
Visitors traveling to the areas surrounding of Bears Ears National Monument should be aware that the designation of monument status has not allowed for the United States Forest Service and Bureau of Land Management to develop their management plan, nor create new services or facilities. Please review our travel advisory.