Ski into Summer: Mountain Resorts in Transition
Here are ideal ways to make the most of the changing seasons in Utah.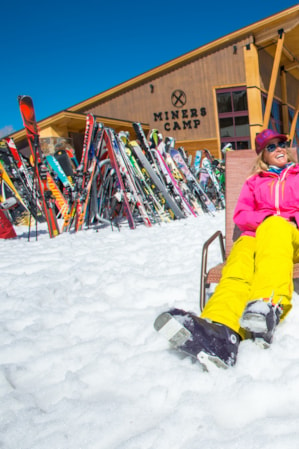 When the last days of winter are upon us, ski fans cope in very different ways. Some prefer to take every opportunity to hang on for every last inch of snow before it's gone. Others opt for quality ski moments, but also begin to look forward to what the warmer months on the mountain will bring. Luckily, Utah mountain regions are smart about all four seasons, and there are plenty of opportunities for those who love the great outdoors to keep their stoke going year round.
From the best places to extend your skiing into the spring to optimal sports and adventures to which to turn when the weather warms up, and even great incentives for shoulder and summer season — here are ideal ways to make the most of the changing seasons in Utah.
"Utah mountain regions are smart about all four seasons, and there are plenty of opportunities for those who love the great outdoors to keep their stoke going year round."
Chase End of Season Snow
Many Utah ski resorts are open for at least part of the spring season, up to at least the end of March. Snowbird Ski and Summer Resort is known for offering skiing as late as July 4, with the "Longest Season in Utah." Aside from hardcore Snowbird, a handful of resorts that are commonly open through April are Alta Ski Area, Brighton, Snowbasin and Brian Head Resort (in Southern Utah).
It's worth the effort to keep spring on your ski calendar for a few reasons. First, the warmer weather and increasing light makes it far more fun to be outside. And because many folks have already moved on to other pursuits, there are often far smaller crowds and much shorter lines for lifts in the spring. Finally, because of the warmer weather, many additional mountain activities like hiking, climbing and mountain biking become available — for more options to take advantage of your overall time on the mountain.
Ultimately, because conditions are more variable in spring, the best bet for chasing quality skiing this time of year is to check the snow report.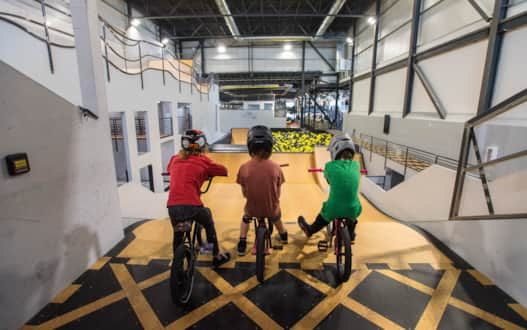 Get into Woodward
Woodward Park City's indoor Action Sports Hub is open year-round for those searching for snow-free activities. The 10,000 square-foot concrete skate park is Utah's only indoor skatepark, and is available for riders and skaters alike. Get some air in the Hub's Acro Zone, which includes a full-sized spring floor, tumble track and rod floor to foam pit, while the Trampoline Zone is home to five Olympic fly-bed trampolines and two SuperTramps (the largest trampolines made in the world). If you're big on tricks, the Parkour and Freerunning Zone is the only dedicated indoor facility in the state. There's also a pump track for skateboards, bikes and scooters, as well as the Mini Mega for aerial tricks with a soft landing in the foam pit.
When the snow melts, however, summer action at Woodward Park City expands. The lift-serviced mountain bike park has three trails that are beginner, intermediate and advanced, while the three dirt trails available for all bikes have the same variation. The 1,200-foot-long pump track is a great space for first-timers on strider bikes to the most seasoned professional rider. Two outdoor skate parks (that allow all-wheeled sports from skateboarding to scooter, inline to BMX, and more) have been designed and built by California Skateparks — the same company selected to build skate parks for the 2020 Summer Olympic Games.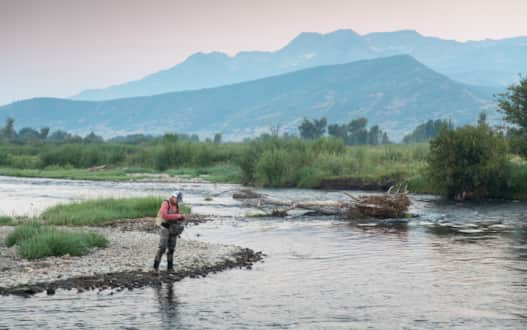 Go Fishing
Anglers enjoy year-round fly fishing with All Seasons Adventures in Park City with winter excursions on the Provo River (just 30 minutes away) at a later start time than summer, so fisherfolk can be out during the warmest part of the day. Once the seasons transition to spring and summer, the options expand to half- and full-day trips along the Weber and Provo rivers, along with exclusive access to rivers, streams, and lakes in the Uinta National Forest.
At Sundance Mountain Resort, fly fishing opportunities also exist through the four seasons at the Provo River, just 5 minutes away. Experienced anglers can choose between a half- and full-day guided tour on the Provo and Weber rivers, and there are clinics available for beginners, women of all experience levels, as well as for fly tying and fly casting. (Read: "Snowfield and Stream: A Winter Fly-Fishing Trip to Sundance Mountain Resort")
Spring Deals
Shoulder season often gives travelers a break with mountain lodges offering deals on overnight stays. Alta takes advantage of spring by offering a free night stay with two previous nights booked at the Goldminer's Daughter lodge, including gourmet breakfast and dinner (from March 29 to April 18). At Montage Deer Valley, when guests book a spring skiing trip, in-house outfitter Compass Sports offers two complimentary ski rentals, including boots and poles.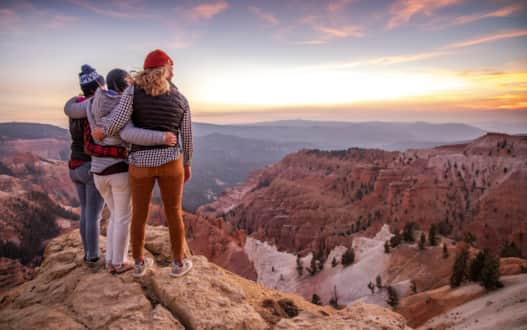 Beat the Rush
As winter turns into spring, Southern Utah's red rock destinations beckon, and visiting them before the summer season means you get to skip the crowds. At Brian Head Resort, visitors benefit from its close proximity to the snow-dusted red-rock hoodoos of Cedar Breaks National Monument, just 3 miles away. It's the perfect spring ski trip to combine a visit to each. On the way from Brian Head to Eagle Point Resort in the Tushar Mountain Range, make a stop at the red rocks of Bryce Canyon National Park that span across a series of natural amphitheaters or bowls carved into the edge of a high plateau.
Utah's first national park, Zion has massive sandstone cliffs of cream, pink, and red that soar into a bluebird sky. The park revolves around Zion Canyon, which is 15 miles long and nearly 3,000 feet deep in places. It also includes much of the surrounding terrain, landscapes that range from desert to the high-altitude forests sprawling across the plateaus above the canyon. Also consider visiting Kolob Canyons, some 40 miles to the south and smaller than Zion Canyon, but this wilderness has countless hiking trails and 2,000-foot cliff walls with hardly anyone to hear their own echoes.
As the park pages above illustrate, each of these national parks anchors a unique regional experience with an array of outdoor experiences and gateway communities that can easily occupy days of thoughtful exploration. You'll see why these places are so popular come summer.
Look Ahead
Eventually, winter ends and ski gear has to be put back in the closet for next year. But your favorite winter resort likely offers an array of on-mountain adventures once all the snow has melted, including discounts to passholders for bike rentals and summer lift tickets.
Even if you don't have a season pass, exchanging your skis or board for your own two feet or two wheels at many mountain resorts is an ideal way to celebrate the summer season. Or even ski fresh lines in the morning at Snowbasin and Powder Mountain, and spend the afternoon stand-up paddling in Pineview Reservoir (review how to visit responsibly) or playing a round of golf in Ogden. Before you know it, crisp fall mornings will arrive and the first snowfall will have you digging your winter gear out again.