Learn to Ski (and Ride) Better
Classes and instruction aren't only for little kids and beginners. Investing in adult ski lessons early on in your trip can not only help you improve your skills, but also give you valuable insight into the mountain, especially if it's one that's new to you.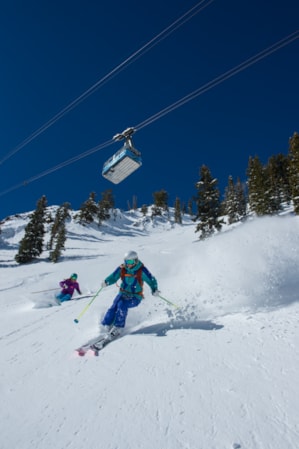 You're planning your Utah winter vacation, and have all the elements covered: travel, lodging, restaurant recommendations, ski school lessons for the kids, activity options for non-ski time, packing lists and gear rental arrangements. But you may be omitting one important addition that ensures ski and snowboard vacation fun: instruction for the adults.
Yes, instruction for you. Even if you've been skiing or riding every season since you were a kid in ski school, there are benefits to hiring an instructor or joining a group when you're visiting a mountain or region that's new to you.
Maggie Loring, director of Snowbird Ski Resort's Mountain School, has plenty of reasons why an instructor can offer you valuable skiing tips to help you navigate the mountain to get the best experience.
"Your vacation days are limited. Why not make sure you get the most out of your time on the mountain, so you can both have fun and increase your skill level?"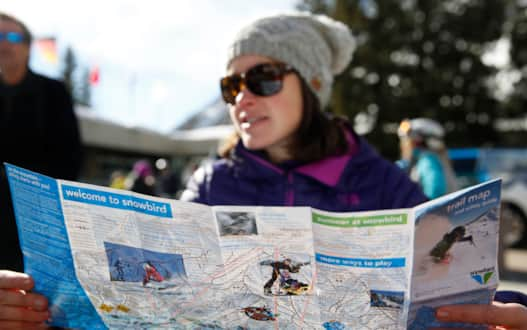 New-to-You Terrain
"Spending the extra money on day one to get someone who knows the mountain (as well as snow conditions and traffic patterns) to show you around is like having a backstage pass," says Loring. Just relying on the guy at the nearby lunch table for his assessment of how awesome that one run was this morning can be a mistake, because maybe that run is indeed awesome — but only in the morning, during those conditions and that moment has already passed. Getting the lay of the land early on in your trip even allows you to find out which après is worth quitting early for, when the lunch rush frees up that trail you want to check out and more of those little-known tidbits that can make a good trip, a great one. Quality time at a Utah ski school can provide this needed information and more.
Different Conditions
"The elevation and dry air of some of Utah's ski resorts can present a challenge to your body if you're not used to it," says Loring. Having someone along who can help make a plan to be efficient so you can pace yourself to enjoy the entire day will help you take advantage of all those fantastic trails, in the right order. If you're used to very different snow conditions, that pacing will also help when you're experiencing Utah's light powder for the first time. (Read: "The Greatest Snow on Earth")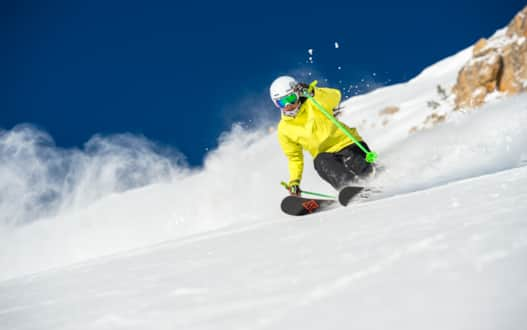 Improve Skills
Maybe you're already an advanced skier or rider and your ski school days are over. That doesn't necessarily mean that you can't benefit from a few skiing tips. An instructor (especially a private one) "builds a relationship through the process of skiing with you, so suggestions to help you improve come more easily," says Loring. These suggestions are not to show you up, only to help get you to that optimal moment when you're having the most fun. Longtime skiers form habits, and freshening up your approach and form with ski lessons can keep your skier knees happier and healthier for years to come. Private lessons are customizable, so communicating what you're looking for in the beginning is important, but it's always possible to vary needs throughout the day. If you're open to improvement tips, let your guide know.
Group Camaraderie
Group ski lessons and workshops don't have to be for beginners. Snowbird's Adult Mountain Experience, for example, is focused on expert skiers of all ages who want to explore the mountain and refine their skills in the company of others at their level. "Some people have been coming to our Women's Ski Camps for 30 years, and feel free to push themselves when they're with other women," says Loring. If your family's ski skills are all over the map, sometimes it's nice to find a temporary crew to ski with.
Overall Enjoyment
Your vacation days are limited. Why not make sure you get the most out of your time on the mountain, so you can have fun and increase your skill level with ski lessons in Utah? "Some visitors spend ski school money on their kids, but don't feel like they can also spend money on themselves," says Loring. "If you can get the experience for yourself, you can appreciate more what your children are doing." Sharing stories at the end of the day, learning more about each other's fun and scary moments, is part of what makes family bonding so valuable on outdoor vacations. Don't leave your own enjoyment and development out of the experience.
Finding the Perfect Ski Lessons
In short, lessons are great for first-timers and skiers and snowboarders looking to refine their skills. You'll see people from age two to 60+ learning the ropes with talented ski instructors at Utah's resorts. While Snowbird's team provides this article's ski school backdrop, the majority of Utah's 15 ski resorts offer ski school opportunities. Lessons can be private or customizable, and some ski schools — Deer Valley, Park City Mountain, Snowbasin, as well as Wasatch Adaptive Sports and the National Ability Center — have adaptive lessons for people of all abilities and their families (Read: "When Turns Are About Adaptability, Not Disability"). View the complete list of ski schools in Utah. January is Learn to Ski and Snowboard month, and many resorts offer special discounts.
Skiing Utah is a distinctive experience that merges incredible mountains with The Greatest Snow on Earth®. When you learn how to ski better, you'll be at the top of your game and you'll get the most enjoyment from Utah's downhill.
7 Skiing Tips for More Fun on the Mountain
Skiing is one of the most exciting sports on earth, especially with the right gear, a good attitude and some lesson time.