U.S. Federal Shutdown Information
All of Utah's Mighty 5 national parks will remain open.
Learn more.
Yurt Camping in Utah: How To Have a Wintertime Yurt Excursion
Whether you're glamping or choosing a simpler option, yurt camping in Utah during the wintertime is a fun, unique experience you won't want to miss out on.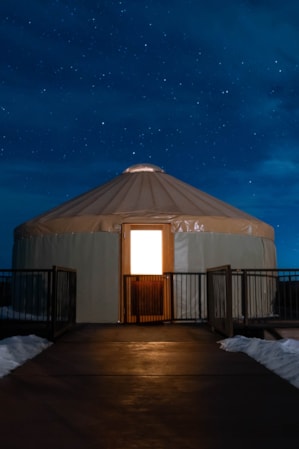 From Southern Utah to the High Uintas, Utah offers some of the best yurt camping in the country. Whether you want an all-inclusive glamping experience or a simple, cozy place to rest your head after skiing or hiking, yurt camping is something you have to experience this winter.
Yurt Camping in the La Sals and Moab
Even if you've never been to the La Sals, if you've driven west of Grand Junction, Colorado, on Interstate 70, you've seen them. The mountain range stays snow-capped well into summer and towers over Moab from every direction, including most famously in the window of Delicate Arch. (If you've never camped at the Sand Flats Recreation Area, consider staking out a spot to view the sunset over the La Sals.)
The La Sals have long been the summertime escape from the Moab heat — Edward Abbey famously journeyed into the hills to get out of the blistering triple-digit temperatures — but they're visited far less frequently in the winter months. This is good news for hardy adventurers because if you're willing to make the effort when the snow starts to fall, you can have this rugged range largely to yourself.
Imagine swishing or snowshoeing along in the bright snow on a characteristically blue southeastern Utah morning. You can see some of the country's most iconic views from here: Arches National Park and Castle Valley to the north, the distant Henry Mountains just beyond the Island in the Sky district of Canyonlands National Park to the west. And after an adventurous day in the outdoors, you can soak up some solitude in a cozy, backcountry yurt.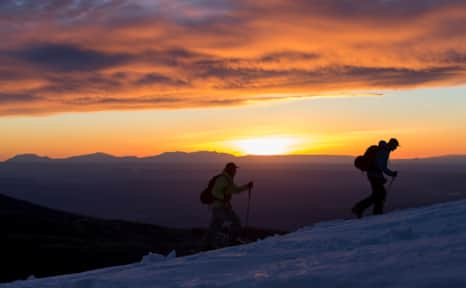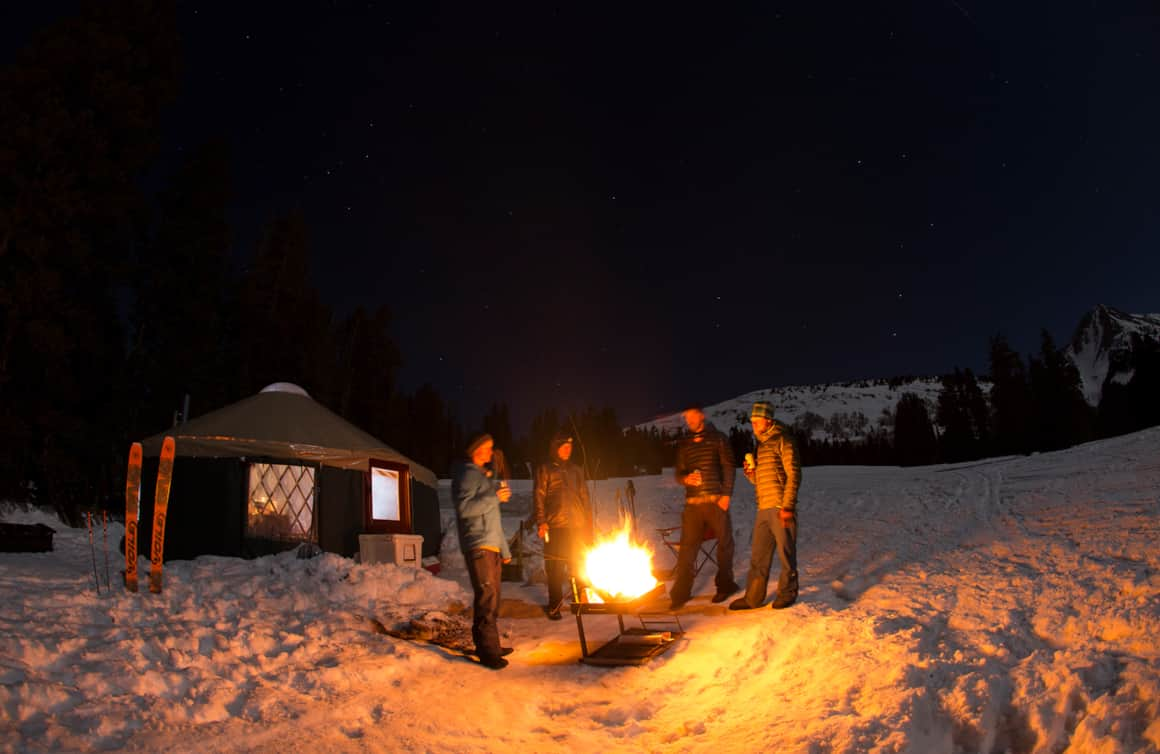 Talking Mountain Yurts in the La Sals
The Talking Mountain Yurts opened in 2016 after almost two years of construction. Owned by Jonathan Dutrow and Will Kelly and operated under a special use permit from the U.S. Forest Service, the three Talking Mountain Yurts are intentionally situated close to trailheads, meaning visitors can wake up, walk out the door and get to adventuring.
Two of the three yurts are open year-round, meaning they're the perfect base camp for your winter adventures in the La Sals. The 24-foot
Geyser Pass Yurt
is 10,500 feet near the base of Haystack Mountain and close to the trailhead for the world-famous Whole Enchilada mountain bike trail. It's also close to Moonlight Meadows and Burro Pass. Geyser Pass Yurt houses up to eight winter visitors in two bunk beds — one on the top and two on the bottom — and a full-size futon.
The yurt features a kitchen with cooking equipment, a dining area and a wood-burning stove for maximum coziness. It also has a small library with games, books and magazines. For overnight, you'll need to bring your outdoor gear, food and bedding (a sleeping bag is recommended). Keep in mind that there is no electricity in the yurts.
The winter parking lot for the Geyser Pass Yurt is just 25 miles from Moab proper, leaving you with about a 3.7-mile tour on snowshoes, cross-country skis or snowmobile from the trailhead into the yurt. The well-maintained trail is mostly groomed, except for the last quarter-mile to your base camp. You can book the yurt online, with slightly lowered nightly pricing as the length of your stay increases.
If the tour into the Geyser Pass Yurt sounds like a bit much, you have another option: Consider a shorter tour into the 20-foot Gold Basin Yurt (only available in the winter), which also sleeps up to eight people and is just a mile and a half trip on a groomed, well-marked trail. There's minimal elevation gain from the winter trailhead, so the tour usually takes less than an hour, depending on your mode of travel.
Intermediate experience is recommended for access to both yurts, but this one is a better fit for those still getting their bearings. (There's a quicker way that involves cutting a mile of groomed trail, so depending on your backcountry experience, it can be a shortcut or a similar travel time either way.)
The Gold Basin Yurt trailhead is about a 45 to 60-minute drive from Moab, depending on travel conditions, and the building is equipped with all the amenities as its counterpart. You can also book it online, though you'll want to plan your trip well in advance — availability is often limited since this yurt is so accessible. Winter bookings typically become available in May. The third yurt in the Talking Mountain family is the Jimmy Keen Yurt, but it's temporarily closed. For those who might have questions about the best gear to pack for these remote yurts, Talking Mountain Yurts provides a handy winter packing list.
Moenkopi Yurts near Moab
For seclusion and incredible views of the Intrepid Trail System, stay at the
Moenkopi Yurts
at
Dead Horse Point State Park
, just 32 miles outside of Moab. Each of these five yurts includes sleeping space for up to six people, heating/AC, electrical outlets and an outdoor propane grill. Restrooms with running water are located within short walking distance.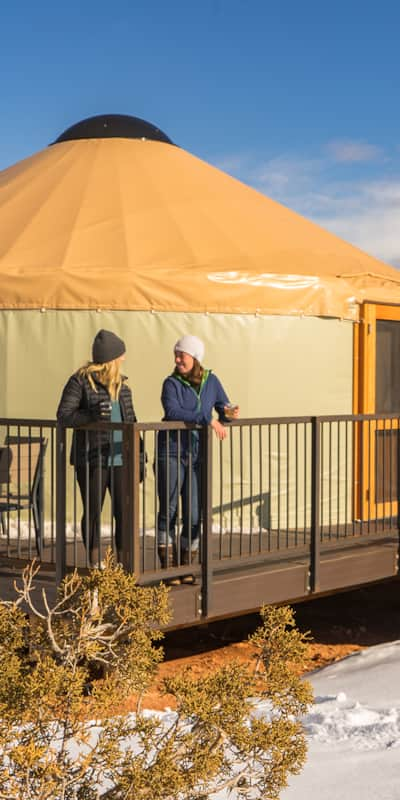 Yurts Near Zion National Park
Gooseberry Mesa Yurts
There are four yurts available for rent on the North Rim of Gooseberry Mesa just past the Windmill Trailhead. The yurts are located seven miles down a dirt road, which can be difficult to access in extreme weather, so check-in after dark isn't recommended.
Zion Glamping Adventures
With 21 cozy bell tents in a peaceful cove surrounded by the Canaan Mountains, Zion Glamping Adventures offers relaxing, elevated yurt camping. The tents are located in the southernmost part of Utah, near the Utah and Arizona border, just 45 minutes from Zion National Park.
Under Canvas Zion
Under Canvas Zion is a premier outfitter for upscale outdoor accommodations, with awards from Condé Nast Traveler and Travel + Leisure. Located on 196 acres of remote desert terrain, the safari-inspired tents are just 20 miles from the Zion National Park entrance. Sleep under open desert skies surrounded by incredible views of sandstone cliffs and majestic rocks.
East Zion Resort
Enjoy a modern, luxury yurt experience at the beautiful East Zion Resort. These yurts include AC/heating and power, a bathroom area with running water and kitchen amenities like a microwave, coffeemaker and small refrigerator. With a patio that overlooks the beautiful mountains, you can enjoy a peaceful evening at your yurt, or take a walk to the shared pool and hot tub.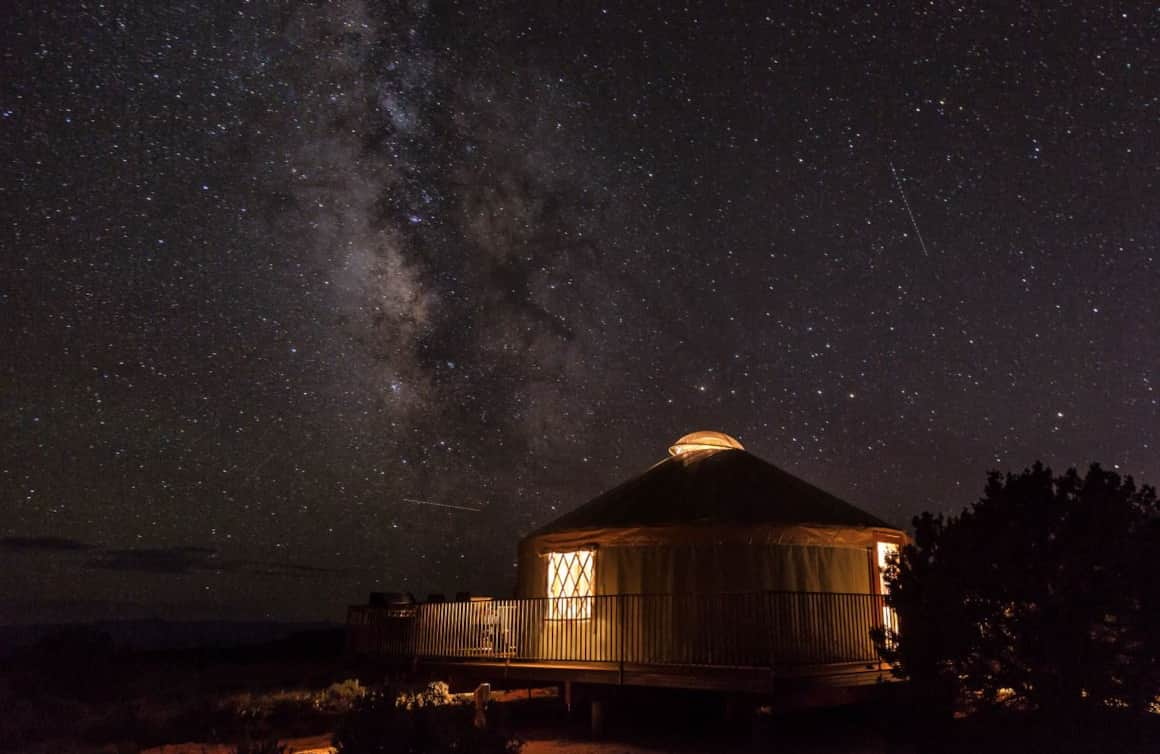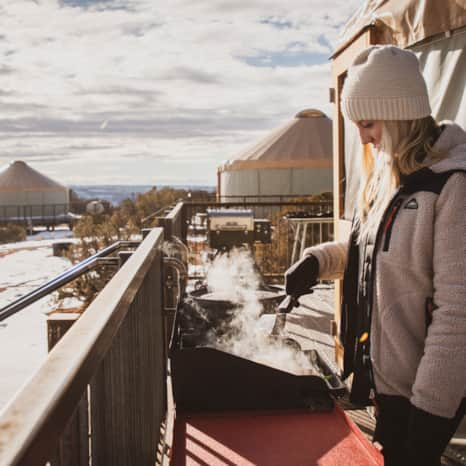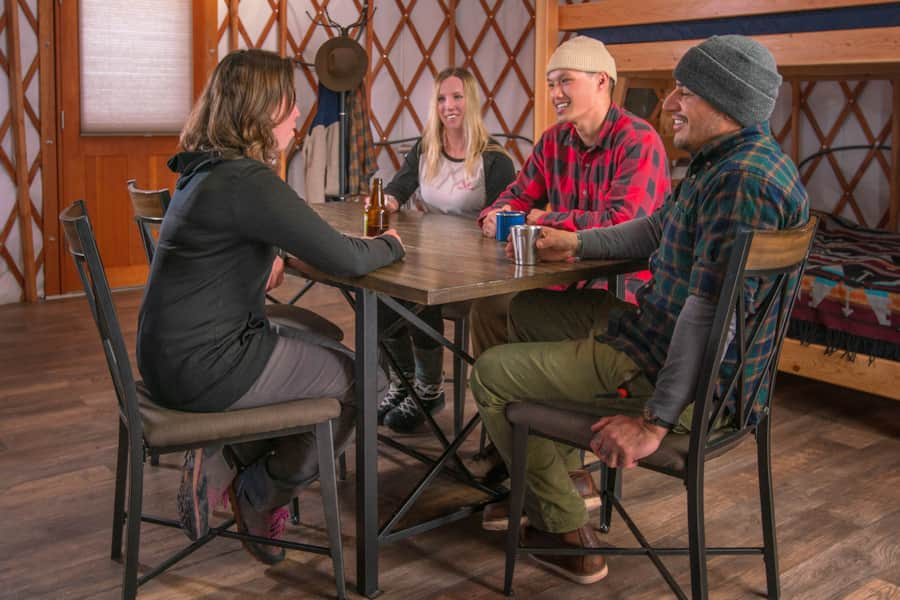 More Yurt Camping in Utah
Escalante Yurts
Escalante Yurts is Utah's original yurt rental outfitter. Located just one and a half miles from the town of Escalante, it's the perfect basecamp for visiting Grand Staircase-Escalante National Monument, Bryce Canyon National Park and Capitol Reef National Park. Each luxury yurt includes heating and air conditioning, kitchen amenities, a private bathroom and a private deck with an outdoor grill.
Ashley National Forest Yurts
The beautiful Ashley National Forest covers 1.3 million acres (1.2 million in northeastern Utah and 96,000 in southwestern Wyoming), ranging from 6,000 to 13,500 feet above sea leavel. There are two yurts within the forest that are more primitive and off the beaten path, Grizzly Ridge Yurt and Limber Flag Yurt.
Both yurts are approximately 314 square feet and do not include running water, plumbing or electricity. There are two bunk beds with full-sized mattresses. Yurts are equipped with a heavy-duty propane camp stove for cooking, a wood-burning stove for heat and a folding table with chairs.